The chef brings vast global experience, including a stint working on the FIFA World Cup catering team.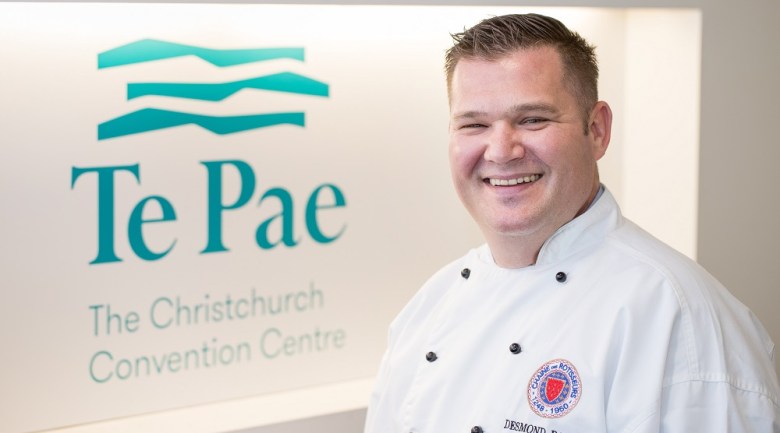 Te Pae Christchurch executive chef Desmond Davies
Te Pae Christchurch Convention Centre has appointed a series of new team members this week, including an executive chef with global experience.
Executive chef Desmond Davies joins the centre, which is on track for an October 2020 opening, with more than 20 years of experience in the hospitality sector across Malaysia, Africa and Europe.
Born in South Africa, Davies has worked in convention centres in Borneo and Durban and worked in the catering team for the 2010 FIFA World Cup in Durban, which saw the team cook more than 45,000 meals for VIP clients over seven days.
Davies is looking forward to blending his international culinary techniques with local produce.
"I like to use local ingredients where I can, to ensure that the meal is the best quality it can be," he said. "I also enjoy creating classic dishes that really make the local ingredients stand out."
Davies said Te Pae Christchurch aims to be a local leader in the culinary sector.
"To sit alongside the top convention centres, you obviously need to have excellent food," he said.
"But it also comes down to being flexible and having the ability to customise menus to each client – and being able to say 'yes' to all their requirements
"We want to be a leader in the city and work alongside the local hospitality scene to be on top of our game.
"We have some great restaurants in Christchurch and I think the expectations of delegates will be surpassed by what we have here in the city."
Davies joins Christchurch local Sandra Hintz in the Te Pae Christchurch culinary team.
General manger Ross Steele said awareness of Te Pae Christchurch is increasing and drawing a high quality of local and international talent to the centre.
"As our presence in the market grows, we are finding a number of talented individuals have seen the potential of Te Pae Christchurch, and in particular the international reach meets local approach that comes with being part of ASM Global," he said.
"They want to come onboard, share their skills and grow their career by working as part of our Christchurch-based team."
The culinary appointments follows on from the addition of two new business development executives earlier this week.
Joining director of business development Gillian Officer are Brad Isherwood, business development executive, national and Jördis Renz, business development executive.