Inspire EX is the event for the business events industry in 2014.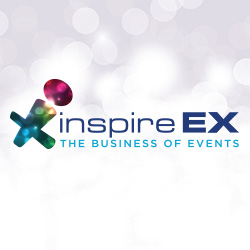 Inspire EX brings together the best exhibitors in the business and special event industry and provides interactive zones, unique experiences and networking events.
Be entertained by talented entertainers, musicians and performers and experience the elements that make your event sparkle.
This year's event will take place the Sydney Exhibition Centre @ Glebe Island, providing the perfect get-away location to submerge yourself in the best of the business and events industry.
If you work in business and manage events, don't miss your opportunity to experience the industry's best. It's your ideal opportunity to do your business better – learn from world-class event professionals, compare the latest event innovations and network with peers and suppliers.
Exhibitors are provided with the ultimate stage to showcase their products and services to the business and events community. The event is attended by over 6000 buyers from the corporate and special events world and provides a unique opportunity to display your services and network with buyers.
The Inspire EX VIP Buyer Program unites exhibitors with attendees with real buying potential, who are actively seeking new event solutions for their business. VIPs manage an average of 30 events per year and have a budget of $400,000. These professionals are responsible for managing events and are researching destination and venue choices, as well as products and services suppliers.
Visitors are offered an extensive range of presentations from world-class speakers, including, international legend John Daly – the 'Guru of Special Events Design'. John's presentation will inspire and demonstrate the benefits of new and innovative ways to create events. He will draw on his experiences producing events for 25% of the Top 50 Fortune 100 companies and the world's most well-known celebrities including Tom Cruise, David Beckham, Will Smith and Oprah Winfrey.