Your delegates deserve to get maximum value for their investment. As a conference MC, Gerry Gannon's objective is to add value to every event by ensuring your delegates are informed, entertained and empowered.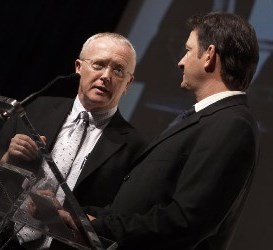 Gerry Gannon is a specialist conference MC who for 12 years has been brightening up conferences all over Australia with his quick wit and keen sense of what delegates want. A former ABC broadcaster, Gerry never lets a keynote speaker "off the hook" without asking the questions that the delegate wants answered.
Good research and a thorough understanding of the organisation and its sector ensure Gerry is across all the issues being discussed. So it's no surprise that many delegates feel that he's actually part of their industry.

"I've been flattered over the years to be asked at a health conference if I'm a doctor or a nurse", he said. "But it tells me that my work on stage with speakers is resonating with the delegate and that's the important thing for me"
Gerry's work ranges across all areas; health care, engineering, agriculture, resources and education…the list goes on.
"Some people will tell me that their conference doesn't require an MC/facilitator," he says. "Every conference can be improved by the services of a good MC. There are a number of us specialising in that space and my suggestion would be to try it at least once. "
Gerry's panel sessions are lively; no stodgy 5-minute reads by panellists, instead his "rules of engagement" call for the "making of an omelette" for which eggs have to be broken!
"I love the sound of crushing eggshells," he jokes.
This year, he's happy to add a keynote on "Developing good Media Relationships", "The Six Steps to Killing them from the Podium" or "Managing your personal Brand" at conferences booked for calendar years 2014 or 2015.
Gerry can be contacted on (08) 9354 8800 or e-mail him at Gerry@gerrygannon.com.au. Alternatively, ask your favourite speaker bureau to hunt him down!