Melbourne is soon to be home to a new style of luxury accommodation.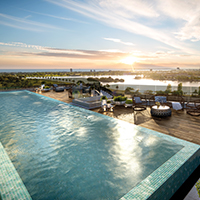 Brand New Luxury Serviced Apartments
Melbourne is soon to be home to a new style of luxury accommodation. Tyrian Melbourne is a five-star, serviced-apartment hotel from renowned developers, Hallmarc. Not to be confused with Hallmarc's north-side award-winning serviced apartments, Tyrian Fitzroy, Tyrian Melbourne is positioned next to Albert Park Lake on the southern edge of the CBD.
Tyrian sets a new benchmark for apartment hotels in Melbourne and rivals some of Melbourne's most renowned hotels in both service and quality. 'We want guests to be able to spread out and relax in style,' explains Marc Cini, Managing Director of Hallmarc. 'We've designed our apartments with an emphasis on space, and have spared no expense when selecting premium appliances and beautiful materials.'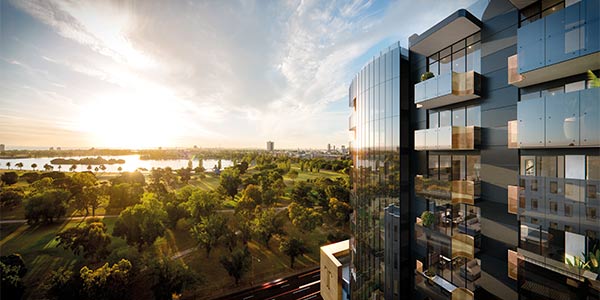 This is evident in the grand 2.7 metre high ceilings, as well as clever storage and beautiful, elongated stone and glass bench tops that offer plenty of space to prepare meals. There is also is a modern Australian café/restaurant downstairs for those who are simply too relaxed to cook.
When Cini says that Tyrian Melbourne will 'represent the absolute top end of apartment hotels,' it's easy to see why. While each apartment comes with its own impressive terrace view, there's no beating the vista from the rooftop skydeck that stretches across the bay. This is a place to admire views from the luxurious sky pool and spa or while enjoying an evening feast prepared on the Bisazza-tiled Moroccan-style barbeque.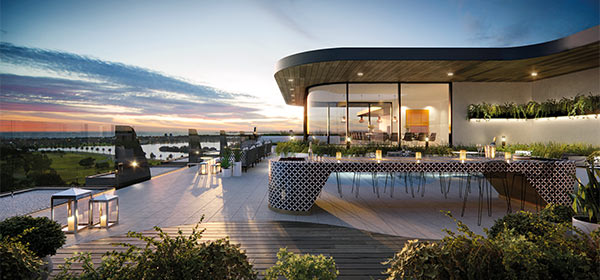 Tyrian Melbourne also offers Fiat 500s available to book on an hourly basis so you can explore the city night and day, while those looking for a quiet adventure can ride around the lake on one of the Tyrian bikes available for hire from the concierge.
Positioned less than 2kms from lively South Yarra and the CBD and moments from Albert Park Lake, Tyrian Melbourne offers a touch of serenity within the city's bustling inner south. 'It's where I would want to stay if I came to Melbourne,' adds Cini. 'Here, you can enjoy a moment of calm while still having the CBD practically on your doorstep.'
Opening in January 2018, Tyrian Melbourne is a vacation (or stay-cation) to write home about.