Spice talks to Iain Lygo from Adventure for Life about what's new in teambuilding.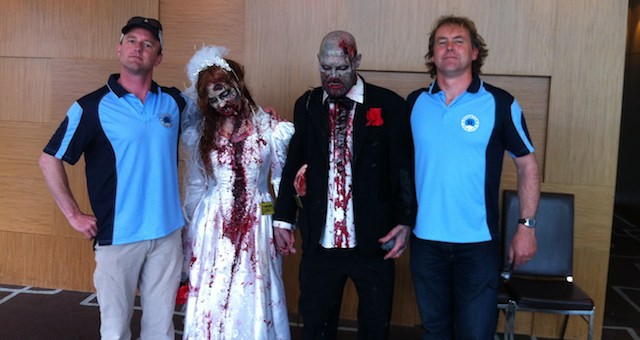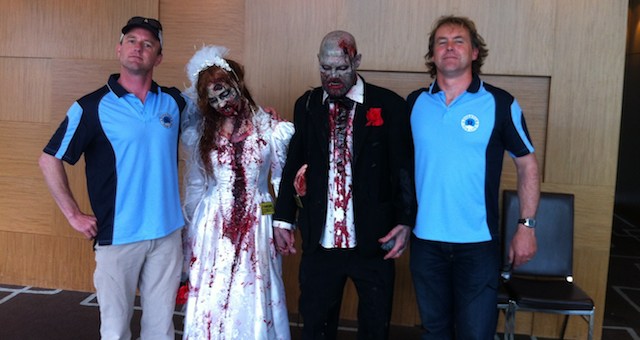 Spice talks to Iain Lygo from Adventure for Life about what's new in teambuilding.
Keep your teambuilding programs fresh with the following ideas:
1. Mass Zombie Wedding
Get your team to organise the ultimate zombie wedding. Your team will nominate a team member to join the zombie bridal party and, from there on, that person will be made up in full prosthetic zombie make up. Your team will dress them in gear that has been purchased from St Vincent de Paul, gather zombie cash in a treasure hunt around the city, gather zombie snacks to keep your team's blood supplies up and then get everyone to the church on time so that the CEO can conduct the wedding.
2. Wilderness First Responder
The scenario is that it's morning and your team's Adventure for Life facilitator is worried. His colleague went for an early morning run and hasn't returned. He is now over an hour late.
Your team now has to perform a rescue that includes tackling spiders, diabetes and horrendous 'accidents'.
Placed in an unfamiliar situation, can your team cope? Who will lead the rescue effort? Who will use the resources at their disposal efficiently, but most importantly, what will they learn.
3. Tuf Corporate Mudder
Nothing gets your team working together better than a very muddy physical challenge. Crawl under wire, scale walls, use high ropes, abseil, and get very dirty together. It's not a race, and guests will quickly work out they need to work as a team to succeed. There are courses at the Crowne Plaza Hunter Valley, Forest Resort Creswick, and Balgownie Estate in the Yarra Valley.
4. Corporate Road Rides
Cycling is the new golf and provides an interactive way to experience a destination and network with your colleagues. This activity is available in multiple locations in Regional Victoria. Cruise through the vineyards of the Yarra Valley. Visit Cadel country on the Bellarine Peninsula. Discover the Macedon Ranges, or ride the back roads of Mornington Peninsula or Philip Island.
5. Race Team Management
Think your team could compete in a triathlon? Mass participation sporting events are becoming increasingly popular and it's now possible to outsource the management of your company's race team to qualified personal trainers. Adventure for Life will look after all race logistics including marquees, branded apparel, accommodation, high energy drinks and snacks, gear rental and transfers.