Staging Rentals & Construction Services has announced the launch of GloBAR. An internally lit bar made of light steel and Perspex, perfectly suited to events and exhibitions
By Gwen O'Toole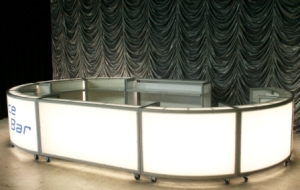 Staging Rental's newly launched GloBAR ready for
event and exhibition hire
The curved and straight modules of the GloBAR allow for a multitude of configurations and the unit is built on wheels for quick installation.
Lighting is self contained, allowing for the whole bar to move as one piece eliminating the need for external lighting suppliers.
The bar also provides branding opportunities as decals and printed transparencies can be easily added and removed to promote an event or company behind it.
'GloBAR provides an eye-catching focal point as soon as guests enter the room," said Staging Rentals managing director, David Comer. "It not only is the best looking bar around, but it is the most functional for those on both sides of the bar."
"We have decided to maintain our commitment to developing new and exciting products even in challenging times. We see GloBAR continuing our long tradition of innovation and investment in new products," he said.
For more information on Staging Rentals products and services,
clcik ere.