Wine brand Jacob's Creek has constructed a unique venue to entertain tennis enthusiasts at this year's Australian Open.
By Gwen O'Toole
Wine brand
Jacob's Creek
has launched a unique venue to entertain tennis enthusiasts at this year's Australian Open.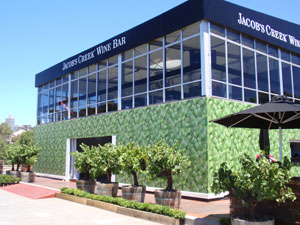 The two-storey Jacob's Creek Wine Bar

As the official wine supplier of an event that last year drew in over 605,000 people, the wine brand will give spectators a chance to enjoy the wines in a unique covered structure.
The vine covered venue will have plenty of television screens to catch all the action, a char-grill to match with their glass of wine and the opportunity to learn about the history of the Australian brand.
The two-storey, air-conditioned structure will also provide VIP guests with a range of corporate hospitality events both on and off-site throughout the sporting event fortnight.
The design was the brainchild of Sydney based creative consultants The Grain. Pages Event Equipment constructed the venue and event veterans Expo Hire created the interior.
On the ground floor wine, beer and soft drinks are available with a wine ambassador on hand to menu-match; guests can also use kiosks to check their favourite player's progress
The top floor consists of lounge area with views of Show Court 2, Yarra and the Melbourne CBD as well as the Jacob's Creek Honorary Aussie wall of fame, created to pay tribute to the lesser known underdogs playing someone higher ranked on an outer court. Each day the wine brand will choose an Honorary Aussie up and comer to get their own instant Jacob's Creek support club to cheer them on.
Tennis legends Wally Masur and Roger Rasheed will be the honorary Aussie ambassadors anointing the Honorary Aussie for each day's play at the Wine Bar. They will also appear during the Channel 7 evening broadcast and the Fox Sports daily tennis coverage discussing the progress of the selected Jacob's Creek Honorary Aussies.