Sydney's Doltone House venues and Melbourne's Atlantic Group V revealed their next big secret to an exclusive group of 150 event organisers and media at an ultra glamourous event held at Doltone House last night
Sydney's Doltone House venues and Melbourne's Atlantic Group V revealed their next big secret to a group of 150 special guests and media at an exclusive and very glamourous event held at Doltone House last night (Wednesday 14 July)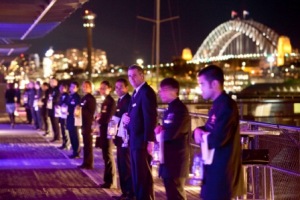 Guests were welcomed by numerous staff holding lanterns along the pier
(all images courtesy of Oneill Photographics)
Guests were welcomed by numerous wait staff holding lanterns to enter the venue for pre-dinner drinks and canapés as gossip was abuzz at what the announcement could be. All was revealed when an exclusive interstate venue alliance between Doltone House and Atlantic Group [v] was announced.
The event, produced by multi-award winning Great Southern E-vents (GSE) continued as guests were ushered through a moveable wall that opened to reveal three stunning 50 seat dining tables as guests sat to celebrate the new 'family' alliance. The venue, dressed by Doltone House's preferred supplier, Decorative Events reflected Doltone House it the very best light to truly impress guests.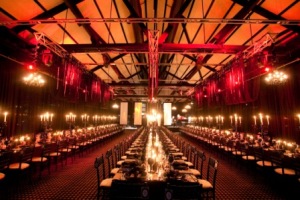 The dining room was revealed, courtesy of Decorative Events and Great Southern E-vents
(all images courtesy of Oneill Photographics)

Preferred supplier, Microhire kept the standard top-notch with audio visual to ensure the event ran seamlessly while Oneill Photographics captured every exquisite moment of the event.
The unique partnership one year in the making, will deliver to clients a range of benefits that will enable them to seamlessly create, produce and manage amazing events in both Sydney and Melbourne. The alliance melds both company's creative minds and will offer numerous benefits including a 'one brief- one contact' (either sydney or melbourne at the time of booking, preferred rates if booking both cities for events, access to joint promotions and much more.
Guests enjoyed a sit down dinner with wines provided by Angove Family Wines, accompanied by entertainment provided by QCE.
"A close bond has been formed and there is a mutual admiration for one another's achievements. Both companies are privately owned businesses, with Doltone House run by three family directors and Atlantic Group [v] run by three diverse business leaders," said Doltone's managing director Paul Signorelli.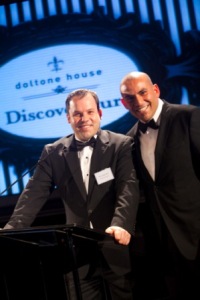 Doltone House's managing director Paul Signorelli (left) and Atlantic Group V's managing director Hatem Saleh (right)
The feeling was certainly mutual from Atlantic Group as well as managing director Hatem Saleh agreed, "It was easy to see we had met our match: similar venues, similar offerings, and similar clientele with both companies significant award winners receiving accolades from the same reputable industry bodies."
Both companies will be exhibiting together at the Australian Business Events Expo next week (July 22-23) in Sydney offering more information on this unique partnership.