The Chifley Hotel & Spa in Sydney's Potts Point celebrated the official opening of their new function rooms and an outdoor event venues with more than 300 guests last Thursday (November 20.)
By Gwen O'Toole
The Chifley Hotel & Spa in Sydney's Potts Point celebrated the official opening of their new function rooms and an outdoor event venues with more than 300 guests last Thursday (November 20.)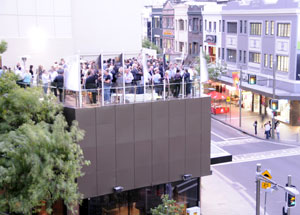 Guests frolick at the newly launched Orion Terrace in Sydney.

The Constellation Hotel Group launched the Orion Terrace underneath the famous Coca-Cola sign in the city's colourful entertainment district.
The second-floor terrace, suitable for events up to 150 guests, was unveiled along with five other new function rooms catering for between 12 and 200 people.
Guest were entertained by Sydney's band the Martini Club.
Constellation Group general manager, Jonathan Wooller, said Chifley Potts Point's new meeting and event facilities provided the MICE sector with a fresh and intriguing venue, perfectly positioned to ensure clients enjoyed the best Sydney had to offer.
Body Inc Bathhouse & Spa, formerly the legendary Korean Ginseng Bathhouse, is also opening in the hotel complex in December, boasting the largest bathhouse and spa in Australia with over 1500sqm, 40 beds, 7 spas, steam and sauna facilities, couplesand& VIP rooms, hair studio, yoga room as well as a Now & Zen lounge.