We chat to an event pro to find out what the biggest culinary trends are right now.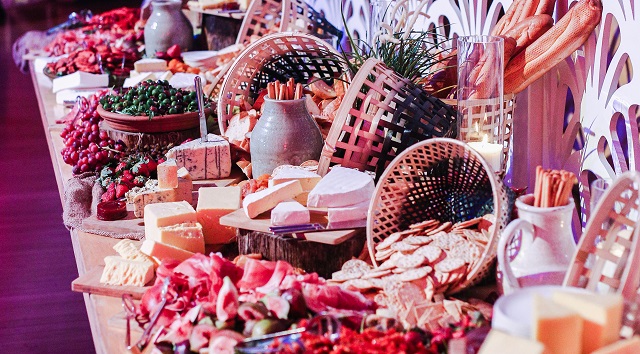 Grazing stations are still a big trend for events.
With food an integral part of every event, culinary trends continue to shape the way we run events and feed our guests.
Spice's sister directory A LIST Guide spoke to Sara Flaksbard, managing director at Laissez-Faire Catering, to discuss the biggest culinary trends right now and how they influence our industry.
According to Flaksbard, the three biggest trends to impact catering in recent years are sustainability, interactive cooking and grazing tables.
SUSTAINABILITY
"It's everyone's responsibility to consider the environmental impact of what we do," she says. "And clients are very interested to know the businesses they work with takes sustainability seriously.
"In catering this includes minimising waste, reducing 'food miles' (sourcing produce locally) and recycling. Sustainability is here to stay in our industry, not just as lip service, but from top to bottom in most businesses."
INTERACTIVE COOKING STATIONS
"This is a great way to engage guests and adds an element of excitement and flair to events," says Flaksbard. "Consider a sushi station, where chefs make bite-sized delicacies to order, or a pizza station, where guests choose their own toppings and watch their custom creation come to life before their eyes.
"It's an immersive experience for guests, and there's no doubting the freshness of a dish you've seen created right in front of you in real-time."
GRAZING TABLES
Flaksbard says grazing tables are a great alternative to cocktail service and they allow guests to mingle while enjoying rustic bread, local cheeses, meats and dips.
"Think of it as antipasto writ large," she says. "For maximum impact, ensure your grazing table includes diverse and colourful elements and don't skimp on the good stuff – guests will gravitate to quality meats such as prosciutto, and of course great cheese.
"Mix up the textures; combine soft and hard cheeses, smooth and course crackers, crunchy and melt-in-your-mouth snacks. Finishing touches such as passionfruit, figs and edible flowers bring it all together.
"A good grazing table can be a wonderful centrepiece to bring guests together."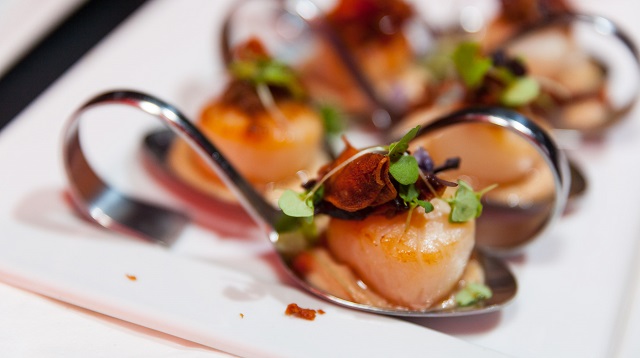 Future trends
Looking ahead, Flaksbard expects a number of major trends to come into focus in 2019, such as native ingredients, root-to-stem eating and booze-free drinks.
NATIVE INGREDIENTS
"Australia has some of the most unique and delicious produce in the world and guests love to see it showcased at events," she says.
"From the sea we have swordfish, yabbies and our world-renowned prawns. But don't forget kangaroo, crocodile and emu. Not only will they delight your guests but these meats also have very high nutritional value.
"While local seafood and meat will be the hero on the plate, local and native plants, herbs and spices are the perfect accompaniments. We really are spoiled for choice with bush tomatoes, tatami apples, mountain peppers, quandongs, macadamia nuts, lemon myrtle and wattleseed to bring colour and flavour to dishes."
ROOT-TO-STEM EATING
"This trend is emerging alongside nose-to-tail butchery, where waste is minimised or completely eliminated," says Flaksbard. Root-to-stem cooking is big right now, and while it emerged out of a desire for sustainable practices, it offers other benefits as well such as new and interesting flavour combinations.
"Chefs are getting creative with once-discarded parts of fruit and vegetables and we're seeing inspired creations such as pickled watermelon rinds, carrot top pesto, fennel frond vinaigrette and sautéed beet greens. The only limit is your imagination."
BOOZE-FREE BEVERAGES
"Part of the wider societal trend for healthy living, more clients are demanding alcohol-free options at events, and not just during Dry July.," says Flaksbard. "We're not talking about mocktails either.
"The bar has become as interesting at the kitchen with creations that maintain sophistication while using new and unusual ingredients. Not drinking alcohol at events doesn't mean you're stuck with the choice of juice and soft drinks."