SpiceNews speaks exclusively to Australian Turf Club CEO Darren Pearce about the eagerly-awaited, $160 million, grandstand after more levels were handed over from the builder this morning.
By James Wilkinson
The Australian Turf Club this morning (Aug 1) took possession of several more floors of its new grandstand at Royal Randwick Racecourse in Sydney, including a new, state-of-the-art ballroom capable of hosting 1000 people.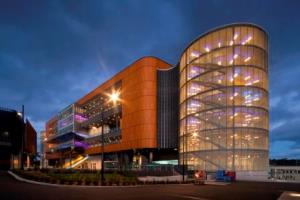 The new grandstand at Royal Randwick Racecourse
The ballroom will be given its first big test on August 9, when it hosts the Kennedy Awards, one of the largest media events in Australia that's set to be attended by hundreds of leading journalists and senior members of government.
Including the ballroom, Royal Randwick's new grandstand will have the capacity to host 4,200 banquet-style or 7,900 cocktail-style over the five levels, with all venues offering views of the racecourse and surrounding parklands.
There is also "the best stadium WiFi in Australia", according to the Australian Turf Club, along with the largest LED screen in the Southern Hemisphere.
Australian Turf Club CEO Darren Pearce gave SpiceNews and select members of the press a tour of the new grandstand this morning, one that took around 18 months to complete and now offers the latest and most technologically innovative event spaces in Australia.
Pearce told SpiceNews on camera the facilities have come a long way at the track, from old stands with concrete cancer to a brand new $160 million facility.
"We had to differentiate ourselves from our competition," he said. "We've gone for a really five-star finish and that's about getting people back to the races and having a flexible space for major events."
In the exclusive video, Pearce also talks about the facilities on offer in the new grandstand, demand for events for the remainder of the year and the latest developments with the Adina hotel that proposed to be built next at Royal Randwick.
To view the video, click on the YouTube image at the top of the page.