Learn your pepeha - a traditional introduction in Māori culture that connects people to place and others around them.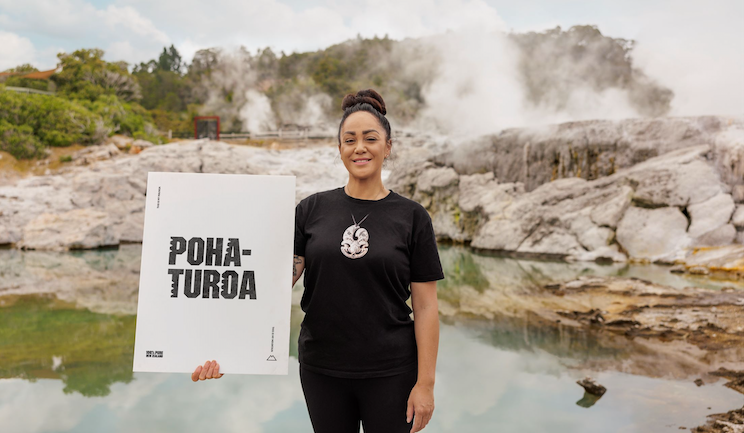 Jessie Emery, MICE Manager at Te Puia, will be at the New Zealand stand at AIME guiding visitors through their pepeha.
In an effort to establish a deeper connection with delegates at the upcoming Asia Pacific incentives and Meetings Event (AIME), Tourism New Zealand is inviting visitors to its stand to learn their pepeha – a traditional introduction in Māori culture that connects people to place. 
The structured introduction establishes one's identity and heritage, and using natural landscapes, like mountains, rivers and lakes, paints a picture of where someone belongs. As well as connecting oneself to place and nature, pepeha also connects us with other people, which is important in a culture that emphasises hospitality and the uplifting of others.
Guests to stand A60 can create their own version of the pepeha that names their maunga (mountain) and moana (river or sea), and whānau or family name and will receive a printed artwork of their pepeha to keep.
"Pepeha speaks to each individual's identity and provides a warm introduction for connecting with others; where they're from, what is important to them. These are all important connections to make when organising a business event," Tourism New Zealand general manager domestic and business events Bjoern Spreitzer said.
"It's also a way to introduce how Māori culture can be incorporated into a business event, providing a unique and authentic New Zealand experience that delegates would get nowhere else."
Events in New Zealand often incorporate cultural concepts, such as laying a wero (setting a challenge for delegates to consider) or coming together for uplifting waiata (traditional songs).
Guests to New Zealand's AIME stand will also be able to meet with representatives from Tourism New Zealand's Business Events team, regional convention bureaux and hotels, to discuss bringing their next business event to New Zealand.
Representatives of the three new generation convention centres in New Zealand – Te Pae Christchurch Convention Centre, Tākina Wellington Convention and Exhibition Centre and the New Zealand International Convention Centre in Auckland – will also be on stand.
"With new venues and activities coming online, plus flexible, competitive and business-specific funding and support on offer, there's lots for us to share with event organisers from across the region," Spreitzer said.
AIME will take place at Melbourne Convention and Exhibition Centre (MCEC) from 21 to 23 March, and online from 28 March to 1 April.