The hospitality giant will bring Sydney's most popular bar and restaurant brands to two of the city's most celebrated sporting venues.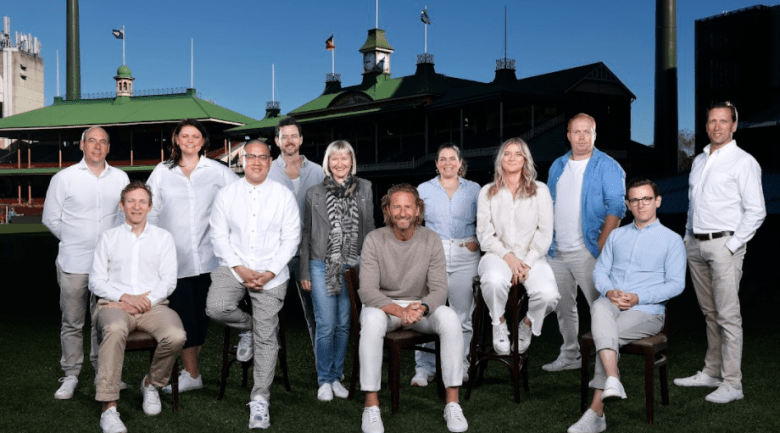 Merivale CEO Justin Hemmes (front, centre) with his team at SCG.
Venues NSW has announced Merivale take over all things food and beverage at Sydney Cricket Ground (SCG) this summer, and at the new Sydney Football Stadium (SFS) when it opens in 2022.
From 5 December 2021, Merivale will provide all catering and beverage services at both venues, across all events and experiences including private and corporate events, for an initial term of nearly six years until September 2027.
Following a highly competitive tender process that involved 14 top tier hospitality groups, the announcement marks the end of an extensive two-year process for Venues NSW that started with a strategic review of its food and beverage offering, pricing and delivery strategy in 2019.
The partnership will see some of the iconic hospitality giant's most celebrated chefs, such as Danielle Alvarez of Fred's and Dan Hong of Ms. G's and Mr. Wong to name just a couple, bring their expertise to SCG and SFS. They will be led by Merivale chief executive officer Justin Hemmes and group operations manager (events) Debbie Higgins.
Hemmes said Merivale will bring Sydney's most popular bar and restaurant brands to the city's most celebrated sporting venues.
"In partnering with Venues NSW, we will strive to provide the most enjoyable and exciting experience to the people of NSW and to all guests of the SCG and the new SFS; food and beverage forms an integral part of the overall experience, and we look forward to delivering on all occasions," Hemmes said.
"This new partnership will see us bring together Merivale's wonderful talent pool, diverse restaurant brands, quality service and inherent love of Sydney to help deliver a world-class experience to every person who steps into the stadium."
Merivale will employ over 1,000 staff across both venues and deliver the same standard of excellence that the brand is renowned for.
"This is a major milestone in our company's history and builds on our commitment to the city of Sydney, its culture, economy and job creation," Hemmes said.
The partnership comes just in time for the summer of cricket and The Ashes New Year's Test match in January 2022, for which SCG and Venues NSW chief executive officer Kerrie Mather said preparations were in full swing.
"This is a transformational moment for our precinct and I know Merivale will offer our customers, members, sporting and entertainment partners the highest quality food and drink this city has to offer," Mather said.
"When Merivale brings the best from its amazing collection of venues, we will set a new benchmark in live experiences."
The SCG's summer menus are currently being refined by the Merivale executive chef team and the partnership will deliver an offering focused on quality, variety, value for money and ease and speed of service.