Originally planned to take place at Te Pae, the FAOBMB Congress has gone ahead virtually, but its organisers found a way local businesses could still be supported.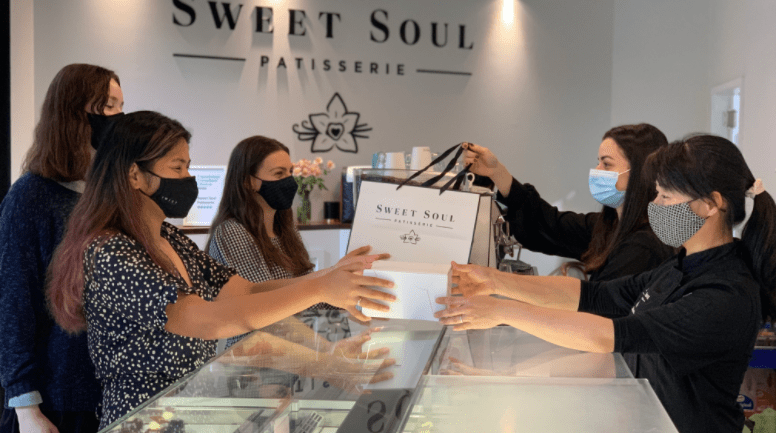 Christchurch patisserie, Sweet Soul received a visit from Congress delegates who used their SOS vouchers to buy a selection of treats.
More than 800 delegates from 29 countries are virtually attending the 16th Congress of the Federation of Asian and Oceanian Biochemists and Molecular Biologists (FAOBMB) this week.
This is the first time since 1999 that New Zealand has hosted the FAOBMB Congress, which was originally planned to take place at Te Pae Christchurch Convention Centre 22 to 25 November and spill out to hotels and hospitality venues around town.
However, after exploring every option, the organising committee decided it had to be a virtual-only event, meaning many in the event supply chain would be missing out, including all the hospitality venues which conferences like this support.
Professional conference organiser, Arna Wahl-Davies said they came up with the idea of buying all 405 New Zealand delegates a coffee and encourage them to spend to support their local café.
"We wanted to thank attendees for still participating in a sustainable way by saying 'have a coffee on us'," Walh-Davies said.
"Via the voucher-gifting platform SOS, we have been able to send each delegate a $20 voucher which they can redeem at any of the over 2,000 New Zealand businesses on the SOS platform, using the inKind App.
"That's more than $8,100 worth of coffee and cake going into local economies. It's a small way to give back."
Business Events Industry Aotearoa (BEIA) Chief Executive, Lisa Hopkins said this is a great example of business events in action, supporting local businesses and communities, while at the same time providing education across countries that will ultimately save lives.
"With conference groups unable to meet face-to-face and contribute economically and socially to the country, many organisations are missing out on the benefits of business events," Hopkins said.
The impact of the business events sector on New Zealand's economy includes financial, social, regional investment and environmental. In 2019 in New Zealand, the industry was valued at $1.45 billion per annum, with over 3.6 million delegates both domestic and international, and employing 22,000 people. However, since COVID-19, the value of the sector has reduced by 78 per cent.