Virgin Australia has announced that it will introduce its new Business Class offering on the Embraer E190 fleet later this year.
Virgin Australia has announced that it will introduce its new Business Class offering on the Embraer E190 fleet later this year.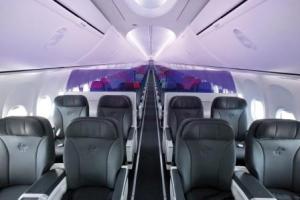 Virgin Australia's Business Class on Boeing 737s
The interior will include six Business Class seats with a generous 38-inch seat pitch on a 2-1 layout, as well as a fixed divider that separates the cabin from Economy Class.
Virgin Australia Group Executive of Product and Service, Martin Daley, said the new layout of the E190 fleet will enable Virgin Australia to cater to market demand for Business Class travel between key capital city and regional destinations.
"Virgin Australia is committed in delivering excellent service, great value fares and an outstanding Business Class offering.
"The upgrade of the Business Class cabin in the E190 fleet will offer both privacy and comfort, whilst maintaining the service and product offering already in place across the Network.
"The E190 fleet is essential for our regional routes, and with enhanced features such as larger seats, re-configured seating and space, the new Business Class cabin provides a complete inflight experience suited to the corporate and business traveller," he said.
Virgin Australia Business Class guests on the E190 will receive complimentary food from on the onboard menu designed by Luke Mangan, as well as complimentary access to Virgin Australia's lounges and priority security screening, check-in and boarding.
Meanwhile, Virgin Australia has revealed it will introduce the first phase of the airline's new inflight entertainment system with the Samsung Galaxy Tab 10.1 on most of the airline's Boeing 737 and Embraer E190 aircraft in April, 2012.
Group Executive Product and Guest Services, Martin Daley, said the Samsung Galaxy 10.1 is principally for Business Class guests and will be available to them on all sectors.
He said Economy Class guests will be able to rent the Galaxy Tab on flights over three hours, responding to customer demand for comprehensive inflight entertainment on these longer sectors.
"During this first phase, the Galaxy Tab 10.1 will be provided to guests pre-loaded with a range of movies, television and audio programs to keep guests entertained and informed."
Daley said that this state of the art device was the perfect choice to experience the next generation of inflight entertainment.
"Phase II will see the roll-out of the leading edge Wi-Fi system developed by Lufthansa Systems," he said.
"In Phase II guests will have access to a wide range of products including video and audio streaming delivered on demand to their own personal electronic devices, Wi-Fi enabled laptops or the Samsung Galaxy Tab 10.1."
Daley said the growing number of travellers carrying their own devices opens up the future possibilities for inflight entertainment.