The Working Kind Collective and Impact Studios are a multi-purpose, community-minded office space built around a pay it forward philosophy.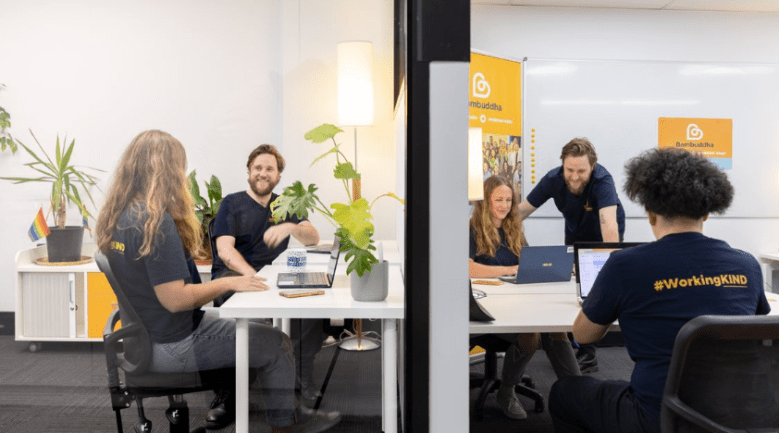 With corporate offices closing and hybrid working practices becoming the norm, global corporate kindness group Bambuddha is set to launch a unique new community co-working and training space in Stanmore, in Sydney's inner west. 
Dubbed the Working Kind Collective and Impact Studios, the community business hub will "pay it forward" to provide services and programs for businesses and community organisations. The idea sprang from a vision to amplify the voices of under-represented people through affordable co-working, community, training and media solutions.
"The Great Resignation is with us globally and a sign that people are restless and dissatisfied. Much of that comes down to a lack of kindness and empathy in business," Bambuddha founder and chief executive officer Anna Sheppard said.
"Bambuddha is responding by offering affordable, innovative, co-worker spaces and services for the community and giving fledgling businesses, start-ups, charities and just those with a great idea, a safe, clean and inspiring work space to congregate and do good, kind work in the world."
The space features media and podcast studios, desks, private offices, a boardroom, and end-to-end services including video production and other media asset creation to help build brands and boost the good work and projects happening in the community. There are also convenient amenities such as a kitchen, bicycle storage and showers.
Workspace bookings can be made online and significant discounts are offered for training and studio use for social impact-focused businesses, charities, leaders and community organisations.
The Working Kind Collective space will be officially unveiled at a special launch event on 5 May, which Sheppard said will feature live music, an art exhibition and a short film screening.
"We invite people from the community and media to come along to our official launch and find out more about the Working Kind Collective and Bambuddha Group."