Australian Turf Club Chairman John Cornish has announced that Toga Hospitality has signed an agreement to manage the new Adina; a 170 room, 4 star apartment hotel at Sydney's Royal Randwick.
Australian Turf Club (ATC) Chairman John Cornish has announced that Toga Hospitality has signed an agreement to manage the new Adina- a 170 room, 4 star apartment hotel at Sydney's Royal Randwick.
Branded Adina Apartment Hotel Royal Randwick Racecourse, the unique track fronting hotel is part of the ATC's world-class redevelopment of Royal Randwick Racecourse and its vision to create Sydney's best racing, entertainment and events destination.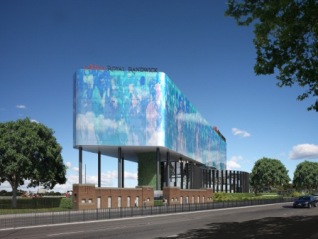 An artist impression of the Adina Apartment Hotel Royal Randwick Racecourse.
This hotel is a key part of a growing array of centralised services and accommodation to benefit Members and the broader community. ATC is also taking advantage of a buoyant Sydney hotel market, with occupancy rates near all time highs and room rates on the increase.
The hotel will be located along Alison Road at the end of the main straight, with spectacular views over the racetrack towards the winning post and across Centennial Park to the city skyline.
The new hotel will provide quality accommodation to race day attendees, local and visiting businesses, as well as tourists, event goers and the surrounding community including UNSW, Prince of Wales Hospital, Sydney Cricket Ground, Allianz Stadium, Sydney International Airport, and Sydney CBD.
A restaurant, pool deck bar and conference facilities within the hotel will provide superior dining and business facilities to hotel guests, race-goers and the local residential and business community.
"Very few new Sydney hotels have been developed in recent years. Our research shows there is strong demand for rooms to service the needs of visitors to the event precinct of Royal Randwick and its surrounding neighbours which includes the Eastern Suburbs beach precincts," Cornish said.
Similarly the Children's Hospital requires rooms for visiting surgeons, specialists, families and patients; whilst UNSW is regularly looking for accommodation for visiting lecturers and students.
"On race days we will be able to accommodate our intrastate, interstate and international visitors trackside, which will be highly valued during Carnivals.
"Our growing non-raceday meetings, conference and events business will be greatly enhanced with onsite accommodation and additional conference facilities just a few kilometres from the Sydney Airport, Sydney CBD and Bondi Beach."
Minister for Racing, George Souris, has congratulated the Board of the Australian Turf Club for its vision and forward thinking in its latest project at Royal Randwick.
"This magnificent facility on the edge of Sydney's CBD, is much needed, providing much needed accommodation, conference space, restaurants and facilities for racing participants, Souris said.
"The hotel development will greatly compliment the current redevelopment of Royal Randwick which will make it the envy of the thoroughbred racing world with the most modern, state-of-the-art facilities.
"Royal Randwick is situated on the doorstep of Australia's global city and this extensive rebuilding and much needed hotel project will not only benefit race day crowds, but position Sydney to leverage fresh tourism and visitation with the new purpose-built sporting, recreation and event facilities."
The hotel will be operated by the Toga Hotels, who are responsible for the management of 52 hotels across Australia, New Zealand and Europe under the recognised brands of Adina Apartment Hotels, Medina Apartment Hotels, Vibe Hotels and Travelodge Hotels.
Allan Vidor, Managing Director of Toga Group said "Toga Hotels is excited to announce plans to open Adina Apartment Hotel Royal Randwick Racecourse and help support the Australian Turf Club's vision of creating Sydney's premier racing and entertainment destination".
"The Adina Apartment Hotel brand will be an ideal fit for Sydney's racing heartland, offering serious levels of space and a commitment to contemporary design. Guests will feel immediately at home with separate lounge rooms, bedrooms, fully equipped kitchens and laundries along with lifestyle facilities such as a gym, pool and restaurant. For those wanting to experience the excitement of trackside action, many rooms will feature balconies with views toward the winning post.
"Adina Royal Randwick Racecourse will fill a much needed gap with accommodation and lifestyle facilities in this dynamic precinct that is the home to the sport of kings".
The hotel is expected to commence construction in late 2012, with an opening date to follow completion of the Royal Randwick Grandstand redevelopment in 2014.