Accor's hotels in Sydney Olympic Park are bracing themselves for the largest onslaught of rugby fans since the 2003 Rugby World Cup final
Accor's hotels in Sydney Olympic Park are bracing themselves for the largest onslaught of rugby fanaticism since the Australia vs England 2003 Rugby World Cup final, as the British Lions face off against the Wallabies at ANZ Stadium on Saturday 6 July 2013.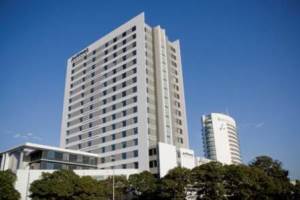 Pullman (pictured), Novotel and ibis Sydney Olympic Park will be hosting at their peak, close to 10,000 people across hotel rooms, restaurant sittings and private events being hosted in in-house conference rooms.

Adding to this, Accor will also be operating a Live Site including a 75m marquee in the Olympic Park precinct which will be able to serve 10,000 people pre, during and post the game – this is on top of the 7,000 fans expected in the Novotel's Brewery Bar one of the best known pre-game venues in the country.
The Brewery, located underneath Novotel Sydney Olympic Park will be serving a "Big Brewery Breakfast" from 10am on Saturday 6 July and will include bacon and egg rolls with BBQ sauce for Wallaby fans, HP Sauce for Lions fans. If the Rugby World Cup World Cup final was anything to go by, the Olympic Park precinct will be filling up from midday with fans wanting to share history and great rugby stories with other like-minded people – even if they come from the other side of the world.
"We are very experienced in hosting events and haven't seen hype around a rugby match like this since the 2003 Rugby World Cup final," said Accor's regional general manager for Accor NSW, Scott Boyes.
"The atmosphere around Olympic Park this week has been electric and we're encouraging locals and Sydneysiders to come out to the precinct and join in the fun. There is nothing better than experiencing the atmosphere before the match and watching the game in this precinct is a great experience.
"Whether you've got a ticket to the game or not, we have installed large-screen TVs around all of our hotels in Olympic Park and the 75m marquee which we have set up will be serving food and drinks throughout the afternoon and into the evening. No doubt a lot of conversation will take place around Johnny's field goal at the same venue in 2003 and this our chance to get one back in what might be the rugby game of the decade. ANZ Stadium and the facilities in and around the Olympic Park precinct are truly world class, all the venues and the Sydney Olympic Park Authority will be working together to provide a quality experience for all 80,000+ visitors on Saturday night regardless of the result or what colour you might be wearing.
"Our hotels have really got into the spirit of the contest and our Pullman, Novotel and Ibis hotels will be a site to behold both inside and out. We take very seriously or responsibility to showcase Australian hospitality to those visitors who travel from all over the globe to experience events at Australia's premium event precinct. We pride ourselves on quality delivery of accommodation, food and beverage to all visitors to this outstanding precinct and for the game on Saturday we have a few surprises up our sleave that will leave fans talking about Saturday and their experience for many years to come……maybe until the next time the Lions are here in 2025."