Venue collection, The Keystone Group has opened The Rook, a new Sydney rooftop restaurant and bar.
Venue collection, The Keystone Group has opened The Rook, a new Sydney rooftop restaurant and bar.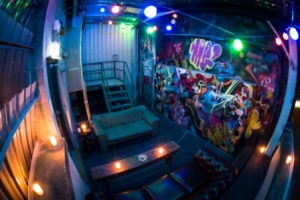 Transforming the top floor of 56 – 58 York Street, in Sydney, The Rook offers a gritty glam vibe.
"The idea was to create the most simple, yet perfectly executed food and liquor in an unexpected rooftop environment," said Paul Schulte, group director, Keystone Group. "The design is raw, paired back with a selection of old and new furniture that have been thrown together to create the ultimate rooftop hangout."
Head chef Freddy Silveira, (formerly Quay, Guillaume at Bennelong) has created the ultimate rooftop menu. While small, the menu boasts lobster fresh from the markets daily and served three ways, one being grilled with an orange, lime & chive dressing. There is also a list of signature burgers including the Wagyu burger served with pickled beetroot, aged cheddar and aioli.
A cracking list of aromatised wine, champagne, European aperitifs and a solid offering of local micro brews and famous international boutique beer and ciders has been created by Keystone's Head Sommelier, Sarah Limacher.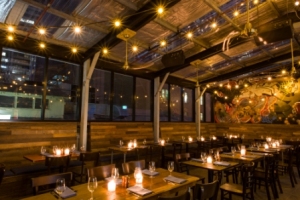 The industrial recycled wood-inspired space offers a rooftop escape from the city CBD.
They do this nestled high above the buildings, as the bar's namesake bird does. THE ROOK can only be reached by elevator access from the QVB end of York Street. The space has been designed by Schulte with the assistance of general manager Danae Cappelletto, taking inspiration from the venues and energy of Berlin.
Upon exiting the lift, guests are greeted by a warm industrial space with recycled wooden clad walls, bench seating, a stone brick bar and rich urban views across Sydney's city scape of historic buildings. A gabled clear rooftop shelters guests from the elements and lets the sunset cast incredible light into the dining room. Vintage street inspired art murals by Jasy & Atome of oneleginc are a stunning addition to the 30 foot floor to ceiling walls.