The design pays homage to the building's brutalist 1970s architecture.
Inside Kingsley, Crystalbrook Collection's new five-star hotel
Crystalbrook Collection has revealed a first look inside Kingsley, the company's upcoming five-star hotel in Newcastle, NSW.
Originally reported by Spice in late 2018, Kingsley will bring a new level of luxury to the region in April 2021, transforming the city's former Council Administration Centre into a 130-room hotel.
Led by EJE Architecture, the redevelopment will pay homage to the building's brutalist 1970s architecture.
Meanwhile the interiors, designed by Suede Interior Design, take on a neutral colour palette with pops of yellow inspired by the Black Canary, in reference to the region's coal mining history.
In keeping with the theme, large cages can be found throughout the hotel with their doors opened for their flight to freedom.
Geoff York, interim CEO and group director of hotels, said the company is pleased to reveal a first look inside the Newcastle hotel.
"The hotel celebrates Newcastle's rich history whilst looking forward to what the emerging city has to offer," he said.
"We are honoured to now be a part of Newcastle's cultural landscape."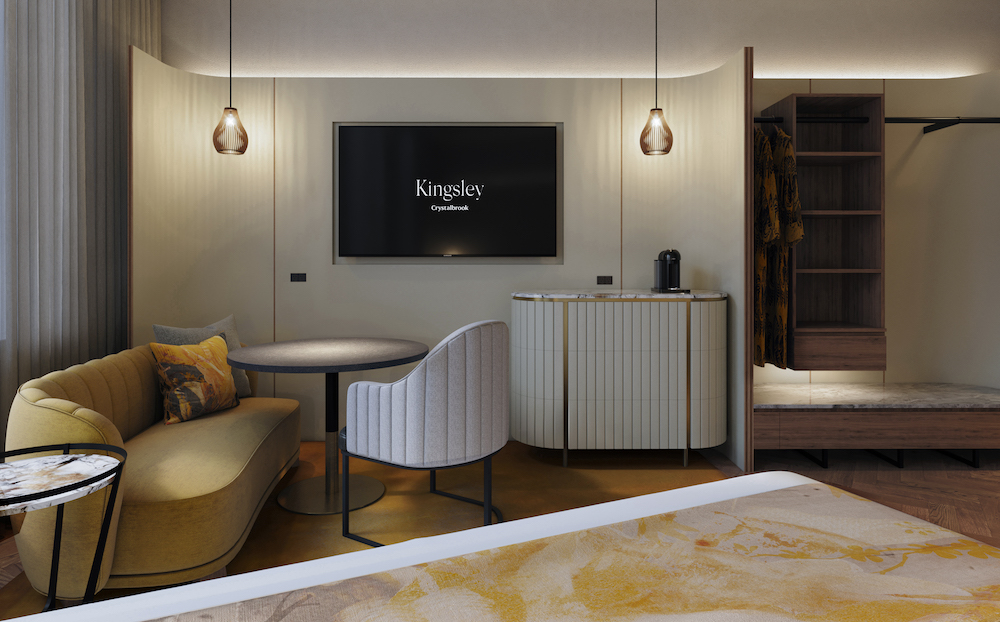 The hotel will also offer two private meeting venues, a lobby bar and café with an outdoor terrace, as well as a rooftop restaurant and bar with panoramic views across Newcastle.
In line with the Crystalbrook Collection's Responsible Luxury commitment, the hotel will have a plastic-free policy and will use sustainable, recycled and locally sourced materials where possible in its build.
---
More reading
Crystalbrook confirms 5-star hotel for Newcastle
Canberra's Little National Hotel set for Sydney
Plans for $100 million boutique hotel in Sydney