Casula Powerhouse Arts Centre (CPAC) welcomes Bellbird Dining and Bar.
Federico
Head chef Federico Rekowski makes like a gnome in CPAC's lush garden
Casula Powerhouse Arts Centre (CPAC) welcomes Bellbird Dining and Bar.
Growing and harvesting 65 per cent of its produce on-site and sourcing the bulk of its other ingredients from artisan suppliers in the local NSW area, Bellbird Dining and Bar offers a genuine farm-to-table culinary experience at exceptionally affordable prices (all dishes are under $18).
The kitchen is headed up by Cordon-Bleu trained head chef Federico Rekowski and sous chef Steven Pham. Rekowski's dishes blend French haute cuisine flair with contemporary Asian and South American influences.
"Great food starts with using the absolute best ingredients available. We're both proud and excited to be able to work with such respected farmers, growers and suppliers, whose honest, sustainable practices are the cornerstone of what Bellbird is all about," said Rekowski.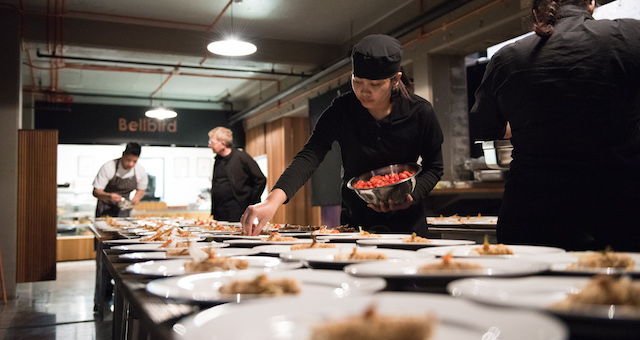 The new restaurant is just one of many exciting plans to reinvigorate the repurposed power station by CPAC's newly appointed director Craig Donarski, blending thought-provoking arts and culture with some of the most exciting and affordable dining out west.
"Amazing food is the next step in Casula Powerhouse's evolution as a true feast for lovers of arts and culture, harking back to the region's pre-war heritage as Sydney's pleasure garden. Bellbird Dining and Bar is just the beginning; we can't wait to unveil more in the months to come, from food workshops, outdoor seating areas, a beehive, and the Casula Fowlhouse – our very own chook pen," said Donarski.
Bellbird is open 7 days a week from 10am – 3pm, and is raising the bar on what to expect from arts centre dining. It marks the continuation of a grand new refresh of CPAC. Bellbird also serves dinner to accompany select evening events, screenings and performances.
Bellbird Dining and Bar is located inside the Casula Powerhouse, 1 Powerhouse Road, Casula NSW.