The Brisbane Convention and Exhibition Centre has teamed up with West End Community House providing a unique experience for those in need of community support.
The Brisbane Convention and Exhibition Centre (BCEC) has teamed up with West End Community House providing a unique experience for those in need of community support.
Every Wednesday for six weeks a small group made their way from West End Community House to the kitchens of the BCEC where waiting for them with his kitchen brigade tools of trade and ever present sense of humour, was Executive Chef, Martin Latter.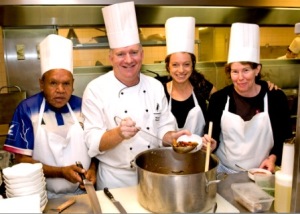 Participants from the West End Community House and the BCEC cook up a storm
Usually more at home fulfilling the banqueting needs of the Centre's hordes of visiting delegates than with such an intimate group, Chef Latter was instead doing what he describes as one of the most gratifying and enjoyable tasks of his career.
What began as an idea in a discussion between the Centre's Community Cabinet members, led by Ruta Berzkalns, Chef Latter and Community Development Worker at West End Community House, Kat Ogilvie, evolved into so much more – a pilot program for basic nutrition and cooking skills for West End Community House clients, some of whom, struggle with society and quality of life. It became an unforgettable journey for all concerned.
Dubbed the 'cooks of hard knocks', these enthusiastic students threw themselves into a program of learning about the basics and benefits of healthy eating, affordable menus and shopping choices.
The group learnt about the different cuts of meat, use of fresh seasonal produce, the pitfalls of dodgy labelling and most importantly how to cook cheap one pot meals with basic equipment and appliances.
Each session finished with the group tasting what they had prepared and cooked, with our budding masterchefs coming away with new skills, knowledge and confidence. The final class in the Centre's restaurant kitchen saw the enthusiastic learners cooking up a storm of freshly made tomato concasse for pasta dishes and meatballs, a stir fry chilli chicken and simple beef curry – all under the watchful eye of Martin and his apprentice chefs.
The feedback from everyone involved, both at the Convention Centre and West End Community House was powerfully positive and uplifting – a real sense of achievement all around to the extent that the Centre will consider ways to enhance and develop the cooking classes in the future.
The Brisbane Convention & Exhibition Centre, part of the international AEG Ogden Group has a strong community engagement program as part of its overall CSR activities. The Centre's staff led Community Cabinet is the strategic driver of its community based activities. 136 BCEC staff members have contributed 742 hours in the areas of health, homelessness, animal welfare, emergency relief, social welfare, disability, education and environment.