Hilton Sydney hosted the 2015 Food and Beverage Masters and Spice looks at what was hot.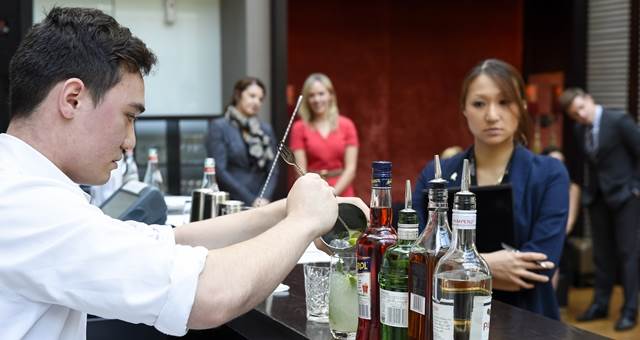 Hilton Sydney
Building on Hilton Worldwide's legacy of creating quality food and beverage dining experiences, Hilton Sydney has been named the host hotel for the final of the 2015/16 Australasia Food and Beverage (F&B) Masters.
In the spirit of cultivating culinary and drink talent, team members took centre stage during the Barista, Wine and Bar Cups held on Monday 9 November, with the Culinary Cup set for Wednesday 2 December at Ultimo Tafe. Finalists from these rounds will be announced ahead of the Australasian competition held on January 21, 2016 at Hilton Sydney.
The F&B Masters is a multi-faceted competition that provides a platform for Hilton team members to showcase their talents to management and industry professionals. The first hotel round was held at Zeta Bar with more than twenty entrants from Hilton Sydney battling it out during the Barista, Wine and Bar Cups, showcasing their skills and creativity to a panel of industry experts.
Formerly known as the Hilton Culinary Cup before being renamed in 2011, the F&B Masters has since expanded to include multiple disciplines and regions from around the world.
Hilton Sydney General Manager, Ronald van Weezel, said: "Hilton Hotels are seen as a leader in food and beverage excellence. Our hotels provide a platform and opportunity for many people to grow their careers and with this in mind, Hilton Sydney is very excited to host the inaugural Australasia F&B Masters in Sydney – a city full of food and beverage inspiration."
This thrilling event has been well received by team members as they are able to explore any aspect of food and beverage regardless of their current position or experience.
"The F&B Masters exposes team members to the variety of food and beverage career paths available and develops not only technical skills but provides growth professionally through presenting to and engaging with senior leaders of the hotel," van Weezel said.
The program is strongly supported by managers who are dedicated to giving their time and skills to assist participants in their preparation. This enables managers to benefit from further developing their own leadership skills through applying a range of coaching techniques that will in turn ignite their own passion for developing others and seeing their team members succeed.
"Retaining our talent is essential and the F&B Masters is just one way that Hilton Sydney reaffirms its passion for developing emerging team members, whilst increasing guest satisfaction through delivering innovative drink and culinary experiences," van Weezel said.