Sydney's leading event suppliers will again team up to deliver Party After Dark, the well-know industry networking event following day one of ABEE and Sydney's Event Showcase.
Sydney's leading event suppliers have partnered to deliver the industry networking event for Sydney's Event Showcase RSVP'11 and the Australian Business Events Expo. The well-known Party After Dark, which is rumoured to have some special surprises up its sleeve, will welcome 1,000 event professionals from around Australia.
This year, for the first time, exhibitors and hosted buyers of the Australian Business Events Expo will mingle with special event suppliers and VIP visitors to the Event Showcase. The joining together of two previously separate networking events makes the Party After Dark a must-attend evening enabling business event and special event buyers and sellers to meet, network, do business and connect with each other.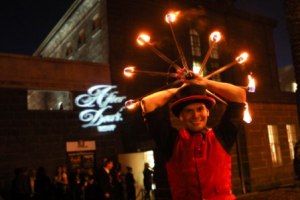 'Party After Dark' to be held at Darling Harbour's Bunglow 8 will host an expected 1,000 event professionals from around Australia

Taking place after day one of the expos, on 10 August 2011, guests will be welcomed to DarlingHarbour venue Bungalow 8, where food, drink, entertainment and plenty of room to catch up will be provided.
Amongst the team that is responsible for delivering the event is Sarah Barker, general manager at Belinda Franks Catering. The upmarket caterer is excited to be contributing to the ever-popular event industry networking function.
"This is an excellent way for us to extend our participation in the Showcase and maximise our brand exposure. And, of course, guests get to try our food and associate it with a successful event," said Barker.
Event manager Delwin Kriel is looking forward to bringing event planners and providers from all over Australia together in this unique and pleasurable environment.
"My vision is to create the largest and most successful networking function in the Australian event industry. And with the help of all our terrific sponsors and supporters, I know we will achieve this. I am very grateful to have our industry colleagues so engaged in the Showcase" said Kriel.
Party After Dark partners will include: Airstar, B Design, Belinda Franks Catering, Brewtopia, Business Events Sydney, Divine Events, Fusion Entertainment, Howard & Sons Pyrotechnics, Keystone Hospitality, Scene to Believe, Team Beat, The Groove Academy
.
Co-located with the Australian Business Events Expo, Sydney's Event Showcase RSVP'11 will take place on 10-11 August 2011. The tradeshow will draw organisers of corporate and special events to the Sydney Convention and Exhibition Centre to connect with suppliers and get inspired for their upcoming events.