Did your project make it in?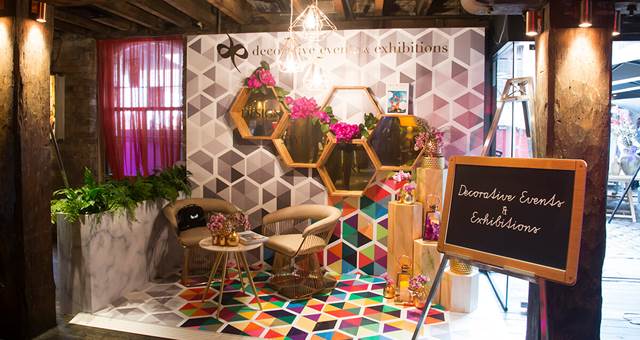 The Decorative Events and Exhibitions stand at Events Uncovered, one of this year's finalists
Did your project make it in?
EEAA chief executive Joyce DiMascio said the awards had attracted a broad range of entrants, especially in the categories designated for suppliers and contractors.
"We've seen a big increase in the number of suppliers entering the awards this year and more entrants in the Best New Show category," said DiMascio.
Winners will be announced at Doltone House, Jones Bay Wharf on  Wednesday, 2 December 2015. To register, click here.
The finalists are as follows:
Best Consumer Show over 10,000 m2
Motorclassica 2014 – Exhibitions and  Trade Fairs
National 4X4 Outdoors Show, Fishing and Boating Expo – Exhibitions and Trade Fairs
PAX Australia – Reed Exhibitions Australia
Best Trade Show over 10,000 m2
AUSPACK 2015 – Exhibitions and Trade Fairs
Australasian Gaming Expo – Gaming Technologies Association
Australasian Oil and Gas Exhibition & Conference – Diversified Communications Australia
Integrate – Diversified Communications Australia
Fine Food Australia – Diversified Communications Australia
Best Supplier Team – Event
G20 Leaders' Summit – ExpoNet
Australian International Airshow 2015 – InstallEx
Dicker Data 'Tech X' – Creative Hire
Hills Tech Expo – Designteam
Best Supplier – Services or Products
Expocorp
Harry the hirer
Ungerboeck Software International
InstallEx
AFI Branding
Best Venue Team
PAX Australia 2014 Team – Melbourne Convention and Exhibition Centre
IUCN World Parks Congress Team – Sydney Showground
Sydney International Boat Show Team –  Sydney Exhibition Centre @ Glebe Island
Best New Product or Service
XPO Leads App – XPO Exhibitions
Marketplace – iVvy
Ferris Wheel Dining – Luna Park Sydney
Conrad System – Reed Exhibitions Australia
Best Corporate Citizenship
Good Friday Appeal 2015 – Melbourne Convention and Exhibition Centre
Australasian Waste and Recycling Expo – Diversified Communications Australia
Agility Fairs and Events
Freight Man – Reed Exhibitions Australia and Agility Fairs and Events
Most Outstanding Marketing Campaign
Cake Bake and Sweets – Melbourne – National Media
CeBIT Australia – Zadro
Integrate – Diversified Communications Australia
Best New Initiative – Venue
Marketing Toolkit/Support Program – Sydney Exhibition Centre @ Glebe Island
Aerial – Food and Desire
Dockside Pavilion – First Year of Operation – Dockside Group
Richard Geddes Young Achiever
Millie Heslop – Exhibitions and Trade Fairs
Nikki Witman – Diversified Communications Australia
Stephanie Bleakley – Diversified Communications Australia
Daniel Condon – Designteam
Best Consumer Show under 10,000 m2
Cake Bake and Sweets – Melbourne – National Media
Dog Lovers Show – Event Management International
Best Trade Show under 10,000 m2
Naturally Good Expo – National Media
2015 Australian Energy Storage Conference and Exhibition – Exhibitions and Trade Fairs
DesignBUILD – Diversified Communications Australia
Décor and Design and Australian International Furniture Fair – Informa Australia
Best Custom Stand
Clipsal 'Life is On' Stand at Grand Designs Live – Sydney – The Display Builders
Schwarzkopf Professional Stand at Hair Expo 2015 – Expocorp
Cisco Stand at Cisco Live – Exhibit Systems
ICC Sydney Stand at AIME – Designteam
Best Show Team
AUSPACK 2015 Team – Exhibitions and Trade Fairs
26th World Gas Conference – Exhibition Team – Exhibitions and Trade Fairs
2015 Australian Energy Storage Conference and Exhibition Team –  Exhibitions and Trade Fairs
Best New Show
Events Uncovered – Interpoint Events
Naturally Good Expo – National Media
The Australian Triathlon, Endurance and Cycling Expo – Informa Australia
Special Edition Pregnancy and Newborn – Melbourne – Pregnancy, Babies and Children's Expo
Best New Zealand Show
Convene South – Promag Publishing
buildnz | designex and The National Safety Show – XPO Exhibitions