The Australian Event Awards on Wednesday 13 September on the Sunshine Coast was a night to remember for many. Click here to find out who took out the top prizes.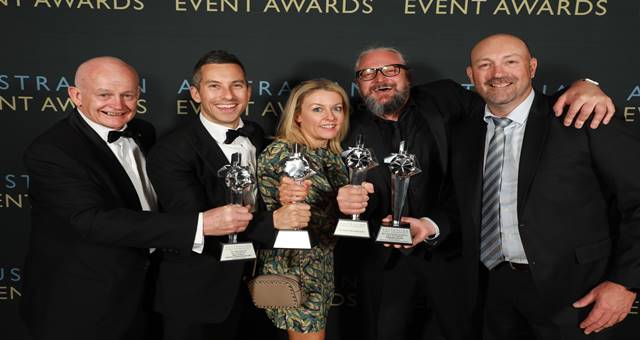 Pictured: Imagination Australia celebrating their well deserved win.
Recognising the best Australian events and achievements by Australians in the global events industry, the Australian Event Awards on Wednesday 13 September on the Sunshine Coast also delivered a night to remember by indulging in the art of the unexpected.
Big winners on the night were Imagination Australia who picked up four awards, including TFH Hire Services Best Exhibition, Best Achievement in Design, Look or Theming and Australia's Favourite Event for Spirit of the Anzac Centenary Experience 2016/2017 as well as Best Technical Achievement or Innovation for their work on Freedom of Movement (Ford Australia at Vivid Sydney 2017), Vivid Sydney who picked up Visit Sunshine Coast Best Tourism Event and EVENTelec Best Cultural, Arts or Music Event, and new cycling event Bowral Classic picked up Aggreko Best New Event and Coates Hire Best Community Event.
Other winners on the night included Byron Bay Bluesfest, Venuemob, TAFE Queensland, East Coast Region, TEDxSydney (Belle Laide Events), Salesforce World Tour (Revolution360), Melbourne Cricket Club for their work on the MCG and Tourism Australia for their work on The World's 50 Best Restaurants 2017.
David Atkins won Event Producer of the Year while Rizer took home Event Management Company of the Year.
New South Wales took out the State or Territory Award recognising the best region in Australia for events.
Major event director and current Creative Director for Vivid Sydney Ignatius Jones, received the Lifetime Achievement Award for 2017 and encouraged the industry as a whole to continue to aim for new heights.
Working with the theme "the art of the unexpected", the Awards Ceremony kicked off with a fake opening, introducing a timid MC who had lost several pages of her script on a very modest stage before a curtain dropped to reveal the real, significantly more impressive stage and the actor, producer, director and radio announcer Cameron Daddo was introduced as the true MC for the night.
Other highlights of the night included Maske, an electric string trio who opened the show, the head-turning Spinning Aerial Moon, the Undercover Tenors who popped out of the unsuspecting attendees, a well-received La La Land prank and a crowd pleasing closing set from the Antipodean Rock'N'Roll Collective (ARC), a who's who of Australian rock music comprising members of four iconic Australian rock bands.
The full list of Australian Event Awards winners can been found by clicking here.