On a high from successfully delivering a major annual scientific meeting, the PCO is thrilled to be back to doing what it does best.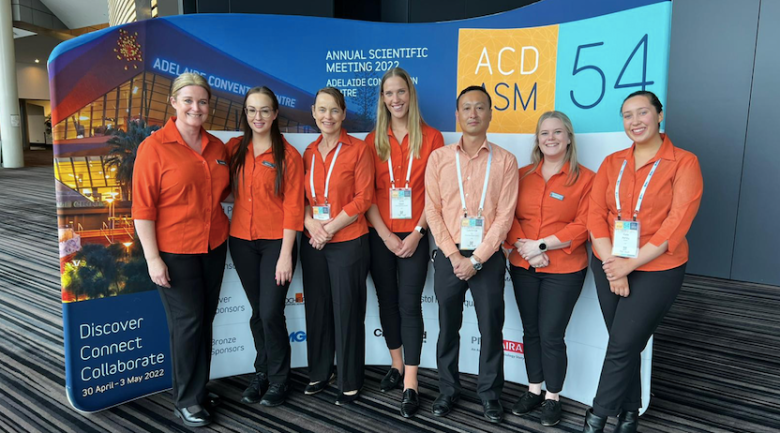 Think Business Events team at ACD ASM 2022.
Think Business Events is celebrating a "triumphant" return to in-person conferences, with The Australasian College of Dermatologists (ACD) 54th Annual Scientific Meeting (ASM), held at Adelaide Convention Centre.
The four day event saw 950 dermatologists and other skin, hair and nail health professionals from all of Australia, and some international attendees, come together for in-person presentations, workshops, training sessions, and networking opportunities.
After more than two long years of working from home and many hours of virtual events, Think Business Events director Denise Broeren said it felt great to be back to in-person events.
"I forgot how much we loved the adrenaline rush of being onsite producing face-to-face events, and the energy of those events – generated by the discussions, connections, conversations and interactions between delegates, sponsors and speakers," Broeren said.
"Also, I think delegates relished the opportunity to be in a room with a speaker and get the 3D experience, and importantly being able to bump into them in the exhibition halls afterwards to continue the discussions."
Having not run their annual meeting in person since 2019, The Australasian College of Dermatologists chief executive officer Haley Bennett said the College was thrilled to have brought its members together again.
"The meeting was well attended and enjoyed by all, providing opportunities for collaboration and networking that have not been possible over the last two years," Bennett said.
The organising committee made sure to make the most of the return to an in-person event by incorporating experiences that would not have been possible for a virtual-only format mere months prior. The College's party was held at Adelaide Zoo, sponsors welcomed back the ability to be involved in hosted breakfasts and dinners, and social events included tennis and golf tournaments.
After the success of the 2022 event, Think Business Events and The Australasian College of Dermatologists are already working on the 2023 iteration for the 55th ASM.