The only Aboriginal light festival of its kind in the world returns to Alice Springs, NT in April with an impressive line-up of entertainment.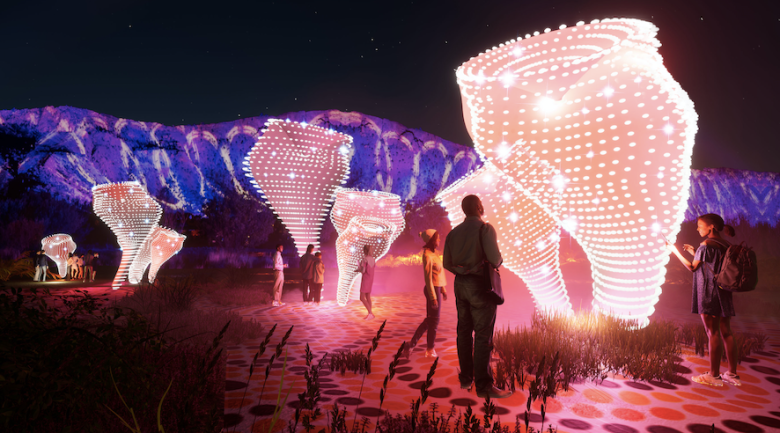 Parrtjima – A Festival in Light will return to Alice Springs in the Northern Territory from 8 to 17 April 2022 with a 10-night program filled with colour, light, and entertainment.
The only Aboriginal light festival of its kind in the world, Parrtjima (pronounced Par-Chee-ma) showcases the oldest continuous cultures on Earth through the newest technology, set against the backdrop of the 300-million-year-old MacDonnell Ranges.
This year, the theme of the annual festival will be 'Sky Country', which Northern Territory Major Events Company chief executive Tim Watsford said will feature new large-scale light installations, nightly projections, films, music, and performances and talks from leading Australians.
"The Red Centre's phenomenal star-filled night skies are the perfect backdrop for Sky Country, which focuses on our place in the universe and the relationship Aboriginal Australians have with the skies above," Watsford said.
This year's event will also host some big names in music and entertainment, including ARIA Award-winning Dan Sultan and Triple J's 2021 Unearthed Artist of the Year King Stingray, who will lead the music program. They will be joined by a range of performers including Aussie rapper BARKAA, West Arnhem Land's Black Rock Band and the Top End's Jimblah.
Other program highlights include the talks, featuring conversations between fascinating Australians and Parrtjima curator Rhoda Roberts AO, and the films program which features a retrospective of acclaimed filmmaker Warwick Thornton's work.
Parrtjima is delivered by the Northern Territory Government through NTMEC and produced by creative directors AGB Events.