Queenstown-based creative event company Touch of Spice 'wowed' the world's top travel industry experts at the prestigious TRENZ 2013 farewell function last week.
Queenstown-based creative event company Touch of Spice 'wowed' the world's top travel industry experts at the TRENZ 2013 Farewell function last week.
The luxury travel and event company fought off stiff national competition to work with the Tourism Industry Association New Zealand (TIA) on the event which heralded the end of the country's largest tourism trade exhibition in Auckland.
Bringing together a number of key boutique suppliers over the last few months, Touch of Spice created a uniquely New Zealand themed event which saw the 800 attendees celebrate the conference finale in style.
The company's winning concept focused on the diversity of New Zealand's exceptional gastronomic offerings as well as New Zealand made wines, beers and products.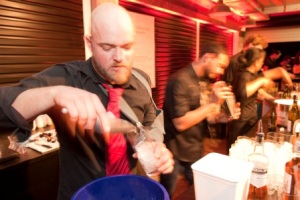 Mixologists created New Zealand inspired cocktails for delegates
"We wanted to create a series of very different spaces that people could seamlessly walk through and discover the unique New Zealand vibe within each area," said Touch of Spice owner/director Jacqui Spice.
"Many of the TRENZ delegates are from overseas and this was the perfect opportunity to showcase our wonderful food, wine, beer, art and hospitality to a wide audience."
Throughout the night guests ambled with ease, sampling produce from every corner of the country. The food was accompanied by some of the country's best wines and beers including tastings from Marlborough based Allan Scott Wines and Akarua from Central Otago. Boutique McCashin's Brewery presented an interactive beer tasting session with their signature tipples including the Stoke Bomber Kiwi Pale Ale and Stoke Bomber Smoky Ale.
National Spirit Ambassador for Hancocks in New Zealand, Matt Bradley, created four signature cocktails especially for the event. Delegates also experienced Linden Leaves toiletries in the bathrooms, NZ Premium Water, fresh organic juice made to order using New Zealand grown fruit and vegetables and 830 Coffee Roasters, one of Auckland's best known coffee roasters.
Skaaperelli Designs also supplied unique beaded, fibreglass sheep for theming at the event, representing an iconic piece of New Zealand.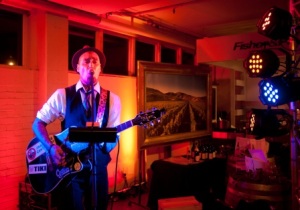 Renowned Kiwi musician Tiki Taane played to a packed TRENZ crowd
The evening wrapped up with an unforgettable acoustic performance by Kiwi music sensation Tiki Taane followed by local band The Dozen who had the crowd partying until closing time.
"We couldn't have done this without the support of the wonderful musicians, producers and brands. The night went even better than I could have ever imagined."
"The world's best travel industry professionals will go home with a real feeling of New Zealand life having sampled all the amazing things our country has to offer."
Â