South Africa recorded an exceptional 15.1 per cent increase in tourist arrivals to the country last year, announced the Minister of Tourism, Mr Marthinus van Schalkwyk, last week
South Africa recorded an exceptional 15.1% increase in tourist arrivals to the country last year, announced the Minister of Tourism, Mr Marthinus van Schalkwyk, last week (3 March) at a media briefing.
"In 2010 we saw more than 8 million tourist arrivals (8 073 552) to the country compared to just over 7 million (7 011 865) in 2009. This compares very well in international terms. Figures from the United Nations World Tourism Organisation (UNWTO) show that global tourism arrivals is estimated to have grown by 6.7% in 2010, which means that South Africa outperformed the global market by more than 8%.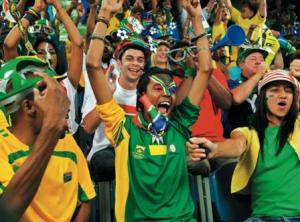 2010 proved to be a hugely successful year for tourism for South Africa, with an increase in over 15 per cent.
"The 15.1% growth in tourist arrivals to South Africa outperformed that of every other region in the world, including arrivals growth of 13.9% for the Middle East, 12.6% for Asia and the Pacific, 7.7% for the Americas, 6.4% for Africa and 3.2% for Europe. We are delighted with these strong growth figures, particularly as it comes so soon after a global economic recession," Minister van Schalkwyk said.
"It is important to acknowledge that the particularly good growth in South Africa's arrivals figures was undoubtedly given a significant boost by the World Cup. South Africa in fact recorded a peak in tourist arrivals in June and July 2010, which is traditionally our low season. From the results of our survey on arrivals during the World Cup, we know that more than 309 000 tourists arrived in South Africa for the primary purpose of the World Cup. The World Cup arrivals therefore represent about 4% of the total arrivals for 2010.
"The World Cup was not only a particular highlight for our country, but also a victory for the entire tourism industry. The tourism sector did an excellent job of hosting hundreds of thousands of guests and contributed to ensuring unprecedented global exposure for our beautiful destination and its hospitable people," Minister van Schalkwyk said.
"The legacy of the World Cup is a major boost for the tourism industry and has cemented a foundation for sustained investment and growth in our industry. Considerable work has already begun across the sector as we now look to maintain the momentum and interest in our valued, world-class destination.
"In terms of reaping the rewards of the World Cup, now is not the time to sit back. I would like to call on the entire industry to continue to build on this positive affirmation of our country and to aggressively entrench our core tourism markets and attract exciting emerging markets," the Minister said.
"In terms of growth from the respective regions, tourist arrivals from the Americas grew the fastest at 37.4% compared to 2009, followed by Asia and Australasia with 34.6%. Long haul markets grew the fastest in 2010, showing an increase of 21%, and the strong growth of 14% from air markets within our continent is also particularly encouraging," Minister van Schalkwyk said.
South African Tourism launched its global "20 Experiences in 10 Days" campaign in September last year specifically to sustain the momentum post the World Cup and to continue to promote the country in its identified markets.
For more information click here