MEETINGS 2022 has shown there is strong demand for in-person business events and BEIA's Lisa Hopkins is optimistic "the only way is up."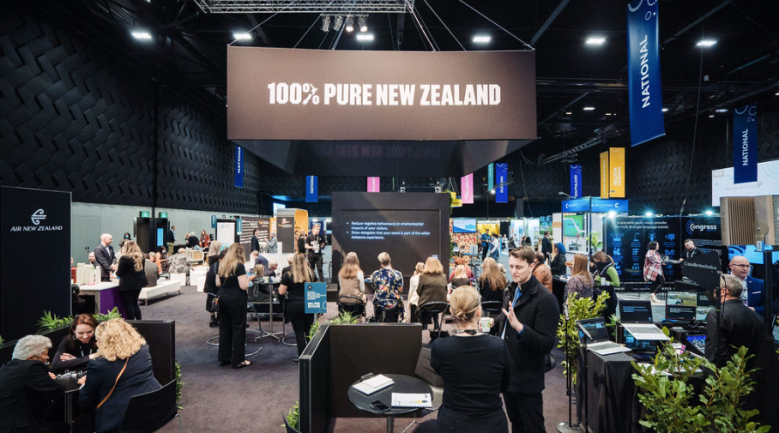 Business Events Industry Aotearoa (BEIA) is expecting demand for in-person business events in New Zealand to soar, with talent, sustainability and world-class infrastructure key drivers to industry's recovery and success.
While country's business events sector declined by 78 percent in spend since 2019, MEETINGS 2022, held in Christchurch this week, has shown there is high demand for face-to-face events.
Speaking at MEETINGS 2022 this morning, Tourism New Zealand chief executive, René de Monchy said the business events sector was not only set to recover, but also to thrive.
"Conference and incentive delegates are amongst the highest quality visitors New Zealand can attract. More than just economic impact, business events enrich New Zealand through the sharing of knowledge, expertise, and business opportunities leaving long-lasting legacies for communities," de Monchy said.
"Tourism New Zealand investment will focus on Australia, China and the USA, which made up 60 percent of international tourism value pre-COVID-19 and will continue to play a major role in high value visitation."
BEIA chief executive Lisa Hopkins said that part of the drawcard of business events is where they are held, highlighting New Zealand's new and soon-to-open convention centres.
"We know world-class infrastructure coupled with good international connections and support including accommodation, hospitality, and tourism make a destination well-rounded and attractive. New Zealand has it all," Hopkins said.
"With international visitors returning and the first of three next-generation convention centres – Te Pae Christchurch Convention Centre – now open, New Zealand is firmly placed on the world stage. Tākina in Wellington is set to open next year, followed by the New Zealand International Convention Centre (NZICC) in Auckland, now under construction."
While the road to recovery is expected to be bumpy, Hopkins spoke of BEIA's plan to support the development of people for the sector, with initiatives and partnerships with educational and training facilities such as Auckland University of Technology (AUT).
In partnership with Tourism Talent, BEIA had invited students from Lincoln University's Event Management school to tour MEETINGS, learning about the sector, and potentially introducing them to future employers.
"MEETINGS has proven the need to meet in person is stronger than ever. Our work now lies in ensuring we have talented people," Hopkins said.
Sustainability will continue to be a primary commitment and focus for the industry, which Hopkins said was paramount.
"Delivering environmentally-friendly and sustainable events is front of mind for event organisers.
"BEIA is collaborating with Tourism Industry Aotearoa (TIA) to bring their sustainability programmes to the business events sector. The New Zealand Tourism Sustainability Commitment aims to see every New Zealand tourism business committed to sustainability by 2025.
"At MEETINGS, the TIA team are working with the BEIA Approved Professional Conference Organisers to tailor the programme to make it relevant to the sector."
The industry also welcomed the New Zealand government's decision to end pre-departure testing sooner than expected, announced this morning. From 11:59pm Monday 20 June, travellers will no longer be required to provide a COVID-19 pre-departure test.