Statistics released this week have revealed Qantas was Australia's best on-time domestic airline in 2013.
Qantas is Australia's best on-time domestic airline, according to the Federal Government's Bureau of Infrastructure, Transport and Regional Economics.
The official figures released yesterday (Jan 22) also showed Qantas led the major domestic airline market every month in both on-time arrivals and departures in 2013.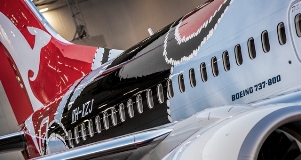 Qantas: Australia's best domestic on-time airline
This is first time Qantas, or any other airline, has been the most on time airline for 12 out of 12 months and is the fifth year in a row Qantas has recorded the best results.
Qantas Domestic Chief Executive Officer Lyell Strambi said strong on-time performance results were a contributing factor to Qantas Domestic's strong customer satisfaction levels.
"We know how important reliability and punctuality is to our customers so we are delighted to be consistently delivering on this year after year," Strambi said.
"Last year saw Qantas finish almost six percentage points ahead of Virgin in departures. This equates to around 7,200 more on time flights than our competitor carrying over a million customers.
"All airlines operate in the same weather conditions and within the same airport environment, so the difference between our on-time performance and our competitors comes down to our dedicated people who work tirelessly to get our customers to their destinations on time.
"We recognise that our operational efficiency means our customers work schedules run smoothly and holidays start sooner."
Strambi said punctuality is a key factor for the business market when it comes to choosing an airline.
"With people's hectic schedules, knowing they are going to arrive on time has never been a more important part air travel. It is also a part of what keeps customers coming back to Qantas," he said.
"Our punctuality in addition to our fleet of aircraft, superior network, frequencies, lounges, on-time performance, and frequent flyer program, is why we continue to be the best for business and premium travellers."