A total of ten Northern Territory tourism operators have won at the 2012 Qantas Australian Tourism Awards, with a number of winners very specific to the Business Tourism sector
Ten Northern Territory tourism operators, many specific to business tourism, have won at the 2012 Qantas Australian Tourism Awards.
NT winners came from everywhere across the Territory and included operators in Alice Springs, Kings Canyon, and Kakadu.
In Alice Springs, the Alice Springs School of the Air (Tourist Attraction Silver Award) offers visitors a virtual journey in 'The World's Largest Classroom' at their interpretive Visitor Centre, a location which is highly popular for conference partners programmes, as well as pre and post touring.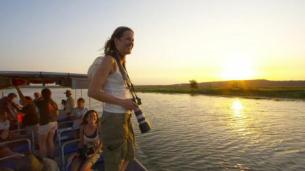 Yellow Water Cruises (pictured above) was one of ten NT tourism operators winning at the Awards.
Scott Lovett, director of business tourism for the Northern Territory Convention Bureau, clarified why he thought the Northern Territory was doing so well on the national stage. "The word 'unique' is so overdone nowadays but it truly applies to many of the NT products and experiences. Feedback from event planners tells us that the appeal of the NT is so strong that it has a very positive influence on attendance at events held in the Territory. These Tourism Award winners are part of the reason why that happens."
Lasseters Hotel Casino in Alice Springs collected the Bronze Tourism Award for Deluxe Accommodation.The 4.5 star Hotel Casino is currently undergoing a $35 million development and expansion and the new resort-style swimming pool and garden surrounds, which opened in January, are now available for functions for up to 150 guests.
The development also encompasses 66 new guest rooms to complement the existing 140 rooms, plus a 250 seat dining space which will open later this year. Other additions include a VIP gaming room, day spa and commercial gymnasium and new separate hotel and casino lobbies.
Elsewhere in Central Australia, Kings Canyon Wilderness Lodge won silver in the category of Unique Accommodation.This 1800 square kilometre working cattle station in the heart of Australia's outback offers 10 luxury, air-conditioned tented cabins, in a pure nature experience that is ideal for high-end incentives.
In the Top End, Yellow Water Cruises won the Major Tour and Transport Operator Silver Award. This Indigenous-owned company provides visitors with the opportunity to explore the breathtaking Yellow Water Billabong, in Kakadu National Park's best-known wetland. The cruise is a very popular component in pre and post conference and incentive touring programmes.
Wildman Wilderness Lodge was the winner of a Bronze Award as a New Tourism Development. The property comprises a premium wetlands safari lodge with 10 habitats and 15 safari tents, as well as a boutique conference venue – it is already popular for incentives, small meetings and corporate retreats.
Arnhem Land-focussed 4WD safari operator, Venture North, won a Bronze Award in the Heritage and Cultural Tourism category. Visiting isolated and unspoilt wilderness areas, the company caters for small, intimate incentive groups.
Other winners included Grant Hunt who won the Gold Tourism Award for Outstanding Contribution by an Individual. As the creator and driving force behind Voyages Hotels and Resorts, Grant has been a pioneer in the NT tourism industry, particularly in the areas of responsible and sustainable tourism, now so very relevant to the Business Tourism sector. Grant is still actively involved in the NT industry as the developer and operator of Bronze Award- winning Wildman Wilderness Lodge, part of the Anthology portfolio.