The Sydney hospitality industry mourns the loss of Blair Milan, 29, actor and integral employee of Stedmans Hospitality
Those who have frequented the Sydney event scene were certain to have been served by Blair Milan, an actor working as a waiter for Steadmans Hospitality.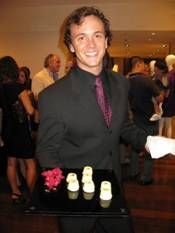 This week, the event industry was both shocked and saddened by the sudden and tragic loss of Blair Milan, son of Lyndey and Nigel Milan.
Last week, blood tests revealed he was suffering acute myeloid leukaemia. Within hours Blair was on life support at Royal Prince Alfred hospital, where he rapid passed attended by his family and friends on Sunday April 17.
Blair was the public face of GO! channel when it was launched by the Nine Network. and Late last year, he and his mother made a 13-part TV series Lyndey & Blair's Taste of Greece, which SBS is due to broadcast later this year.
In a statement from Stedman's Hospitality "It is with profound sadness that we have to pass on the news that the amazing Blair Milan suddenly passed away on Sunday morning 17th of April," read a statement released by employer Stedmans Hospitality.
"Words are simply inadequate to relate how we all feel. Blair was a close member of the Stedmans family having worked with us for many years and we are sure that his face and wonderful demeanour which quite rightly earned him a place in our hearts as a superstar were familiar to you all…He is and will be sorely missed."
Funeral details have not yet been announced.