Garuda Indonesia has indefinitely postponed its re-entry into the Brisbane-Bali market, which was scheduled for December 14.
By James Wilkinson
Garuda Indonesia has indefinitely postponed it's re-entry into the Brisbane-Bali market, scheduled for December 14.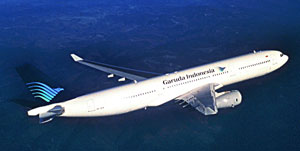 Garuda has postponed new Brisbane-Bali flights
Garuda Indonesia senior general manager – Australia/South West Pacific, Poerwoko Soeparyono, said the global economic crisis was behind the decision to put a stop on the new flights.
"An unforseen focus on travel warnings against Bali and the gloomy economic environment has impacted on incremental business over Christmas and dampened forward booking activity," he said.
"Given the global crisis and the devaluation of the Australian dollar which impacts significantly on our revenue, Garuda Indonesia's Board of Directors has determined that it is not an appropriate time to make such an investment.
"Of course we are very disappointed by the circumstances that have prompted this decision and we sincerely hope that the industry, and our customers, will understand.
"As with all carriers operating in this present economic environment, commercially prudent if unpalatable decisions must be made," he said.
However, Soeparyono said Garuda Indonesia remained committed to bringing a full service Bali option to Queensland.
"We are confident that the lull in Bali bookings is temporary and that the value of this popular holiday destination will reassert itself when, after the festive season, Australians begin to consider their holidays plans for 2009," he said.
The news from Garuda came a day after Pacific Blue launched Brisbane-Denpasar flights on November 27 and just days before Jetstar commences one-stop Brisbane-Denpasar flights via Darwin.