One in two business events professionals cite face-to-face meetings as the leading factor to boost business growth for the industry.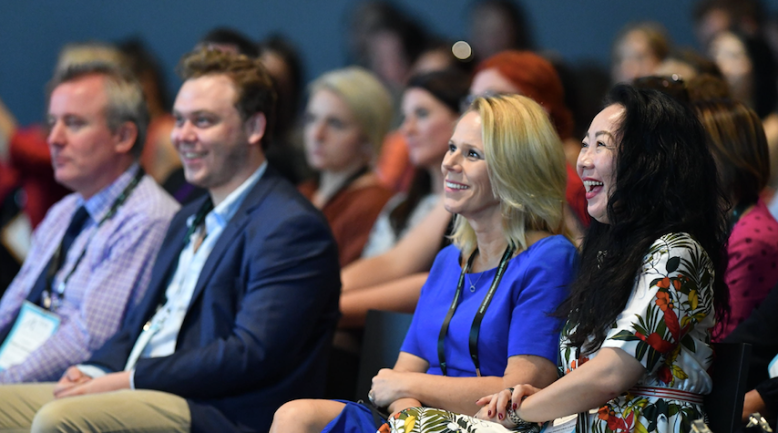 AIME Knowledge Sessions.
Asia Pacific Incentives and Meetings Event (AIME) kicked off its highly anticipated 2022 show at the Melbourne Convention and Exhibition Centre (MCEC) on Monday, revealing insightful new industry research findings.
Looking into how the business events industry intends to drive recovery, as well as revive and thrive, the global research conducted by AIME surveyed more than 450 business events professionals, revealing that one in two cite face-to-face meetings as the leading factor to boost business growth for the industry – with the lead reason being that it cements vital relationships (67 percent).
More than half of respondents (54 percent) said creative events made for the most exciting opportunities for business, followed by innovative technology (38 percent).
The continent of most interest to travel to in the next six to 12 months was Australasia, as selected by 60 percent of respondents, followed by Asia (38 percent) and Europe (33 percent).
Melbourne came out on top as the leading events destination, with 75 percent of those surveyed in favour of Victoria's capital, citing reasons such as its reputation in hosting sporting events, unique culture, celebration of the arts, food offering, and world-class entertainment.
As for AIME itself, nearly all respondents (96 percent) see it as an important event for the industry's recovery, with 68 percent also citing it as critical. The report also revealed that of those attending AIME 2022, most were excited about networking and reconnecting (58 percent), followed by driving business for the year ahead (20 percent).
Now in its 29th edition, AIME this year is expecting more than 1,500 industry visitors to connect and conduct business over the three-day event. It has welcomed 342 hosted buyers, (half of which are new to AIME), including 30 international buyers and 52 virtual buyers, as well as more than 225 exhibitors, including 171 from Australia and 54 international exhibitors, making AIME 2022 the first national event to welcome back international exhibitors to Australia since the pandemic began.
After one of the most challenging times for the industry, AIME event director Silke Calder said the Talk2 Media and Events team was beyond thrilled to finally kick off AIME 2022.
"This year, we are looking forward to driving more meaningful moments as we focus on our recovery and revival," Calder said.
"After listening to our community, we also found that over half of those attending AIME were most excited about networking and reconnecting. We cannot wait to catch-up with so many of you on the show floor, in what is sure to be one of our best events yet."
Highlights at this year's AIME include the Ideas Academy, AIME Activate and AIME Activate Live, as well as Monday's dedicated Knowledge Program, which featured an impressive line-up of speakers including tech entrepreneur and futurist, Steve Sammartino, and Australian broadcast journalist and former news anchor Mimi Kwa. All sessions are available for on-demand viewing during AIME Online from 28 March to 1 April.