One Sydney hotel is offering extreme discounts to draw travellers in.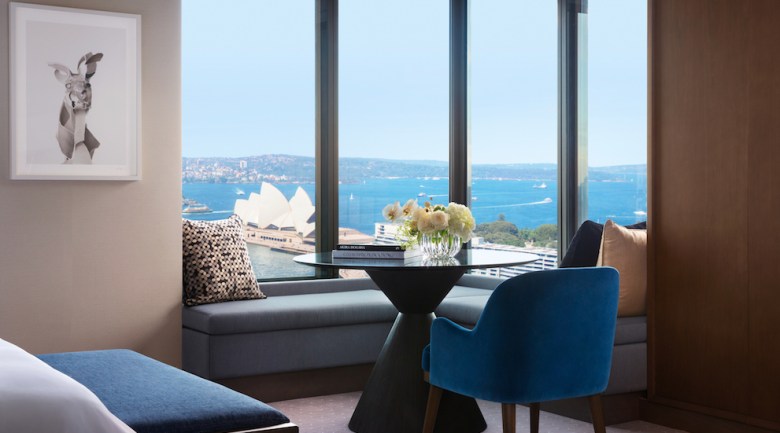 Four Seasons Full Harbour Room
Hotels across New South Wales are gearing up to open doors again, following the announcement that holiday travel within the state will resume from 1 June 2020.
NSW Premier Gladys Berejiklian announced yesterday, 20 May, NSW citizens will be able take recreational trips, as long as they maintain social distancing and good hygiene.
Museums, galleries and libraries across NSW will also be allowed to reopen from 1 June 2020, under strict protocols.
Interstate travellers will be able to visit NSW for a holiday from 1 June but will need to comply with the rules of their home state when returning.
"I must stress to everyone that, while we want people to enjoy a well-earned holiday, we must do this responsibly and continue to abide by physical distancing measures, as the last thing we want is further outbreaks that will force us to reintroduce restrictions," said Berejiklian.
The news has been welcomed by Four Seasons Hotel Sydney, which is preparing to welcome more guests from 1 June with heavily reduced rates for travellers and new hygiene measures.
The hotel has remained opened over the past few months to accommodate essential travellers, but hopes the easing of restrictions will encourage more travellers to return to the property.
General manager and regional vice president Bahram Sepahi said the hotel team is excited to "get back to doing what we do best".
"I can't wait to speak with guests again, hearing of their experience whilst staying with us – quite often mentioning the unmistakable views of Sydney Harbour from one of our most iconic rooms, the Four Seasons Full Harbour King Club Room," he said.
During June, the hotel is offering 'welcome back' rates, such as the Four Seasons Full Harbour King Club Room from $385 per night, which usually retails above $1,400.
The hotel has collaborated with the Johns Hopkins Medicine International to further strengthen its health and safety measures, through a new program called Lead With Care.
TAA: More needs to be done
Meanwhile, Tourism Accommodation Australia (TAA) has welcomed the news, but says more needs to be done to ensure people can take part in normal holiday activities.
"The government needs to be looking at safely lifting more restrictions on dining, particularly those in areas which have never had a case of COVID-19," said TAA NSW CEO Michael Johnson.
"It doesn't make sense that a large venue with multiple rooms on multiple floors is restricted to 10 people for the entire premises -the same as a small café.
"Before making a booking, potential tourists will also want to know they can get a meal and a drink."
---
More reading
BECA outlines plan to restart business events
New hygiene protocol for ICC Sydney, BCEC and more
How hotels are adapting in order to keep doors open