An Oscar Wilde- inspired restaurant has opened its doors in the Melbourne Docklands, perfect for groups
By Kevin Moloney for SpiceNews
Oscar Wilde was a self proclaimed lover of "the great indoors" and I'm sure he would have approved of the restaurant his life and times have inspired.
Facing the water of Victoria Harbour at Melbourne's New Quay in the Docklands precinct, is one of this city's newest eateries – Oscar's Table.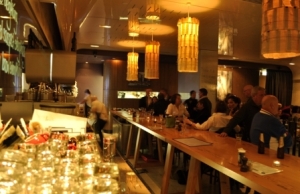 Oscar's Table, a new Melbourne restaurant inspired by Oscar Wilde is welcoming groups for dining events.

A massive portrait of the great man himself – Oscar Wilde hangs on the wall as if making poignant and barbed comments at the goings on in the restaurant. As only Oscar could!
Written on the walls are some of his many famous quotes and the literary theme even carries through to the lightshades which are covered in pages of old novels.
But the owners of Oscar's Table have avoided the over-use of the theme, allowing chef, Phong Nguyen creative licence to conjure up a contemporary sharing-style menu. The dishes on offer include the influences of Asian styles of cuisine from Thailand and Vietnam through to the more familiar (at least to Oscar Wilde) inspiration from Spain and France.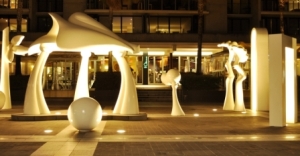 Oscar's Table is located at 50 New Quay Promenade, Docklands.

The bright and modern décor lends itself to the sharing concept which can be taken to new heights when joining a group of friends at the timber bar which doubles as a long table. Other communal tables encourage mixing it with people you don't yet know but would like to join a conversation and possible even share a meal with.
As a groups venue, Oscar's Table has a lot to offer – especially one which has such a surprising range of dishes, a solid wine list and excellent coffee to finish the meal off.