Joe's Bar has opened at East Hotel in Canberra.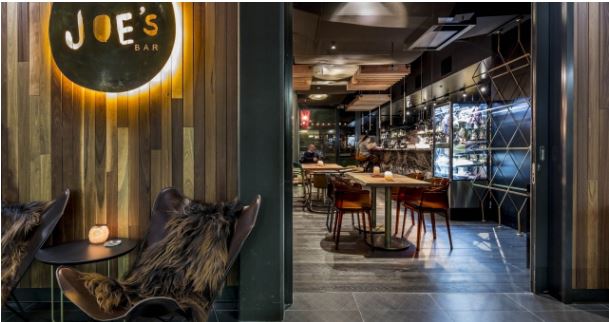 Joe's Bar has opened at East Hotel in Canberra.
The brain child of siblings Dan and Dion Bisa, the pair wanted to create a place that they would actually want to sink into with their friends – rather than just simply a concept bar attached to the very sleek hotel. Indeed, the bar is named for their father, Joe Bisa, a first-generation Italian-Australian. As such a personal project, it was clear from the outset that the design of the bar would have to be both intimate and evocative.
"We are promoting a style of dining that is sociable and inclusive, whether its a local dropping in, a visitor to Canberra for business or leisure or a guest at East.
"Joe's is part of the vision we have dreamt of for East, creating a genuine hospitality precinct" said Dan Bisa.
Designed by Kelly Ross, creative director of The Gentry, the space features a concrete curtain.
"From the very first conversation I had with Dan and Dion, I just knew that a concrete curtain was going to be woven into the details. I saw it so clearly: a heavy, grounded element that cleverly imitated something which is usually so light and ephemeral," said Ross.
"Getting it made was a convoluted process though … not simple at all. I was very lucky to have a brilliant props maker, Alex Rosemount, who is also a master problem solver. In fact, our entire team of craftsmen and artisans are all insanely gifted in very unique ways. Ruth Allen, who is a glass sculptor based right here in Canberra, is another stand-out local talent who has brought something special into the finished result with her work," said Ross.
Venetian cultural and aesthetic cues are constantly interwoven into the design of the space with the metaphorical characteristics of elements such as fine Murano glass weaving their way through the visual narrative, with results that are simultaneously raw and refined.
The bar itself, an enormous monolith of leather-finished granite, anchors what is a relatively tiny hideaway-type space of just 110 square metres. Natural, oiled timbers offer warmth alongside the cool finish of polished stone.
"Dan is the one with the design vision, who saw this project as an opportunity to create a superb and beautiful space and I am the link to the hotel, extending the hotels hospitality to our guests alongside our general manager, Todd Handy," said Dion Bisa, assistant general manager of East Hotel.
"We make a great team – a brother and sister that actually get along, like each other and create cool stuff together. Joe's Bar is the culmination of many people's dreams and hard work and we are enormously proud of what we have created. "
The wine list at Joe's is a veritable who's who of the very finest Italian wines from Piedmont to Tuscany alongside some of the best wines from the Canberra district.
"It was important for us to have representation on our wine list from not only some of the classic Italian wine producing districts, but from the Canberra region as well.
"We feel that the combination of the fantastic product we now see coming out of the local region and amazing Italian imports gives our guests a selection that really wants for nothing. My vision was to have the best wines possible available to enjoy in an inspirational and stunning space – a multisensory experience," said Dan Bisa.
The menu, designed by Italian-born chef, Francesco Balestrieri, has been specifically created to share and to complement the wine selection.
The menu includes dishes like 48 hour slow cooked sous vide Wagyu beef brisket with charred polenta and porcini butter. Those with a sweeter inclination have not been ignored with specialties such as Tramezzino al Gelato – house-made For di Latte (vanilla cream) gelato sandwiched between Sicilian pistachio cookies. A customised version of the menu is available for in-room dining at East, redefining the concept of room service.
The food at Joe's Bar is made in-house, by hand, using nothing but the best and freshest ingredients. The mandate at Joe's is to buy local and cook with an Italian heart.