Four Seasons Hotel Sydney has officially launched four home-style residential meeting suites, perfect for groups.
Four Seasons Hotel Sydney has officially launched four home-style residential meeting suites, perfect for groups.
The Hotel has transformed the entire level two space overlooking the atrium lobby from the hotel's former Kable's restaurant and two Private Dining Rooms to four creative and flexible meeting suites – Studio One, Studio Two, Studio Three and The Residential Suite.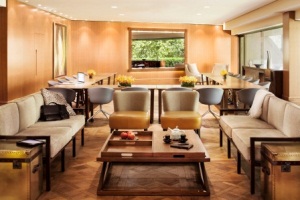 Four Seasons Hotel Sydney has set itself apart from traditional hotel meeting rooms with a focus on creating a stylish yet relaxed and homely environment, offering ample lounge space to ensure clients meet in comfort.
Menus have been redesigned to offer home-style cuisine each day of the week, ensuring a variety of options across multi-day events.
With a capacity of up to 120 guests, The Residential Suite offers state of the art technology with projector screen and a LED 60 inch television stored inside a stunning hand-crafted timber side-board. Adding to the room's namesake is an adjoining lounge area featuring Italian fabric, custom-made lounges and armchairs, a central hand-made timber coffee table, brass trunks. Warm timber shelving houses a range of quirky home wares including a woven rubber bowl with white marble eggs, copper shoe and plaster roller-skate.
The Studios offer flexible space, catering from 18 to 180 guests in a range of configurations. These suites offer all the latest state-of-the art audio visual technology. Sound proof and visual room dividers provide separation from one large space to three more intimate rooms.
In keeping with the residential ambiance, the Studios feature a collection of original ceramic, stone and porcelain artworks designed by top artists from the UK including Richard Godfrey, Craig Underhill and Peter Beard – representing one of the largest collections of its kind in the world. These pieces create a gallery-like appearance, individually showcased on floating glass shelving around the perimeter of the space.
In addition, the Hotel has transformed the former Café into a relaxing lounge area available exclusively for guests using the Studios and Residential Suite. Two breakout areas featuring hand-crafted tortoise-shell inspired wooden and leather veneer armoires are located at either end of the Studios allowing guests to enjoy all day self-serve beverages and snacks.
Four Seasons Hotel Sydney General Manager, Vincent Hoogewijs, said the meeting suites are a welcome addition to the Hotel, "this is the final phase of a large scale three-stage refurbishment and one we are extremely proud to share with our guests.
The suites are not only an ideal place for large-scale meetings and conferences, but the residential feel we've chosen creates an ideal venue for weddings, while the Residential Suite transforms from meeting by day to private dinner by night, anything is possible!" Mr Hoogewijs affirmed.
For information and booking enquiries contact our Catering Sales department on (+61 2) 9250 3100 or visit www.fourseasons.com/sydney