We've got all the highlight reels from AIME 2019 - can you spot yourself?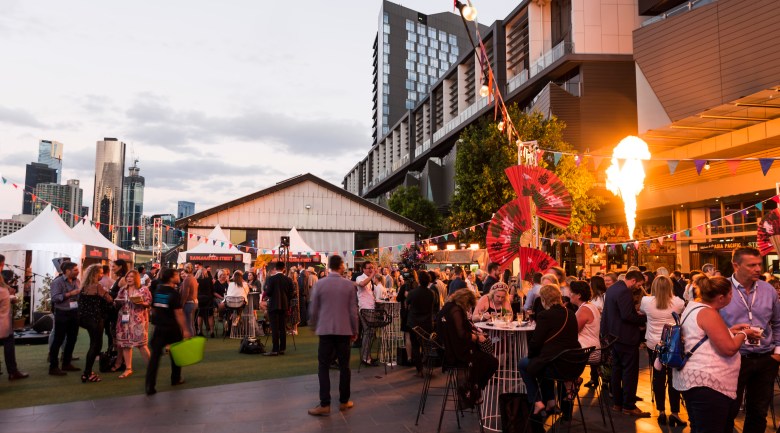 AIME's networking night hosted by Showtime Event Group
The reimagined Asia Pacific Incentives and Meetings Event (AIME) wrapped up this week, after several jam-packed days of meeting and networking in Melbourne.
With new organisers Talk2 Media and Events at the helm, the industry was eager to experience the show and its refreshed look and feel.
A series of hosted buyer and media tours took place on Sunday 17 February, where delegates experienced the best of the city and beyond thanks to Melbourne Convention Bureau.
The following day, AIME's reinvented Knowledge Program kicked off, with around 5oo delegates attending the sessions covering everything from technology talks to interactive experiences such as Dialogue in the Dark.
Watch the Knowledge Program highlights below:
Following the Knowledge Program, delegates headed out to Peninsula at Docklands, an Atlantic Group venue, for the highly anticipated 2019 Welcome Event.
With culinary delights from Asia Pacific regions, a floating dessert table and live entertainment throughout the night, guests hailed the event a huge success. Watch all the highlights here:
Delegates got down to business at the Melbourne Convention and Exhibition Centre for two full days of meetings on 19 and 20 February. The show floor centred around AIME's brand new atrium, which became a meeting place for all delegates to continue networking throughout the day.
Watch the highlight reel from day one of the trade show here:
On Tuesday night (19 February), delegates continued the networking at South Wharf Promenade, where the venue was transformed into an Asian-inspired street food festival.
Delegates hopped from stall to stall trying an array of Asian delights and soaking in the festival atmosphere, before heading into the Showtime Events Centre for the after party.