RSVP Melbourne has announced its highly anticipated Event Talks program for 2010.
RSVP Melbourne has announced its highly anticipated Event Talks program for 2010.
Industry leaders will present a series of 12 seminars that cover the latest trends and issues facing event professionals today.
From brand management and memorable menus to fashion, festivals and adapting to 'the new normal' post-GFC, the RSVP Melbourne team have compiled a diverse program that offers valuable professional development to all corners of the events industry.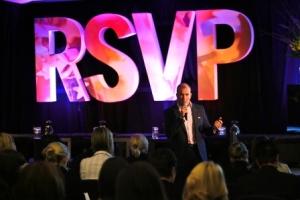 Great Southern E-vents'Jeremy Garling will once
again return to the popular RSVP Event Talks Program
For the first time an Event Talk will specifically focus on the concerns of EAs, PAs and Office Managers, offering creative advice on delivering first-class events under the boss' budget.
The 12 talks see renowned industry experts and rising talents share their insights with the audience.
'We have gathered the true veterans and rising stars this year and the calibre of professionals is really exciting. To sit in the room with these top names and learn from their success is a rare opportunity that I'm sure our delegates will love,' says Georgia Blakeney, Event Talks organiser.
Confirmed speakers include: Karen Webster, Festival Director for L'Oreal Melbourne Fashion Festival; Alex Nihill, Event Producer for Peter Jones Special Events; Jennifer Trethewey, Managing Director of The JT Group; Rob Lawson, CEO & Founder of iQuantum Pty Ltd; Jo-Anne Morgan, The Conference Box; Adam D'Silva, CODA Bar & Restaurant; Tom Rutherford, Creative Director for fnb; Jeremy Garling, Great Southern E-vents and Peter Jack, I.D Events.

Event Talks are held at RSVP Melbourne on 26-27 May 2010 at the Melbourne Convention and Exhibition Centre.
Full details and limited tickets are available by clicking here.