2012 marks the 20th anniversary of AIME when it returns to the Melbourne Convention and Exhibtion Centre on 21-22 February.
2012 marks the 20th anniversary of the Asia-Pacific Incentives & Meetings Expo (AIME) when it returns to the Melbourne Convention and Exhibtion Centre (MCEC) on 21-22 February.
Event organisers are inviting exhibitors to register now for access to over 3,500 Hosted Buyers and attendees from incentive houses, associations, event management companies and professional conference organisers (PCOs) all under one roof. To maximise the two-day event, exhibitors have a Pre Scheduled Appointment (PSA) diary, which allows them to meet with the Hosted Buyers they are interested in doing business with. Exhibitors also have the opportunity to boost their presence at the show with a range of branding opportunities.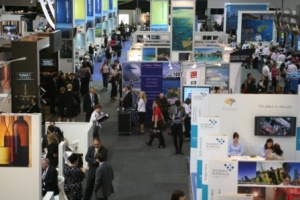 AIME will celebrate 20 years when it returns in 2012 to the Melbourne Convention and Exhibition Centre in February.
AIME is an event where real business takes place, say organisers, with 92 per cent of respondents of the 2011 AIME post exhibition survey expecting business leads generated to confirm or convert within the next two years.
Sally de Swart, AIME event director, says that the show is going from strength to strength with the number and diversity of exhibitors.
"In 2011, AIME attracted nearly 850 exhibitors of which 200 were first-time exhibitors, representing a greater diversity of companies, products and services for buyers to choose from," de Swart said.
"AIME is the largest exhibition showcase for the business events industry in Australia, presenting exhibitors with the opportunity to meet with a host of domestic and international buyers and decision makers in just two days, conducting business in a rewarding and enjoyable environment with unrivalled networking opportunities."
For more information about exhibiting at AIME 2012, click here.