Meetings and Events Australia (MEA) will celebrate its 40th national conference next year at the new International Convention Centre Sydney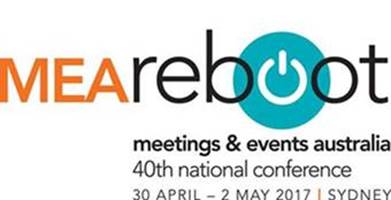 Meetings and Events Australia (MEA) will celebrate its 40th national conference next year at the new International Convention Centre Sydney
MEA 2017 will be held from 30 April to 2 May.
MEA CEO Robyn Johnson said, "We are very excited at being one of the first industry conferences to be held in this spectacular new venue."
The conference theme is 'Reboot', which symbolises both opening of the new convention centre and the planned reinvigoration of MEA.
"This will be like no other MEA conference. The business program will challenge our thinking and include a number of innovative initiatives designed to inspire us to take the industry to a new level."
On Saturday 29 April MEA will arrange a series of pre-conference activities and tours for delegates to explore Sydney and regional NSW.
The conference website with all registration details will be launched in early December.