The first Certified Event Company in Australia has recently been announced by the PCO Association.
The first Certified Event Company (CEC) in Australia has recently been announced by the PCO Association.
Brisbane based QUT Events, is a commercial unit within the Queensland University of Technology, and provides corporations, government, professional associations and the community with conference and event management services, short courses for professional or personal development, and customised non-award training programs.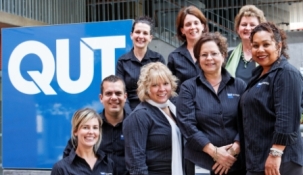 The QUT Events Team: (left to right, front to back): Carley Chapman, Jason Thomas, Amy Piekkala-Fletcher, Leanne Paulsen, Melinda Tsang, Rachel Mortimer, Anne-Maree Huggett, Barbara Richardson (Russell Smith – QUT Events Manager was the photographer)
Senior events manager Jason Thomas has also recently been awarded his individual Accreditation as a Certified Event Manager.
"Our strengths are derived from our commercial focus and partnership with QUT Faculties. This arrangement provides the advantages of quality assured academic services in a flexible, responsive and client focussed environment. We believe that this industry Accreditation will provide us with credible industry recognition that will further support the professionalism of our team within QUT," he said.
One of the major objectives of the PCO Association is to provide a set of standards for clients and industry and an assurance that the Event Manager, and the Event Management company they are dealing with is committed to the highest quality event management business practices, consistency and reliability in the delivery of services, professional standards and dedication to continuous improvement.
With this in mind, the Association offers an Accreditation program for both individuals and event management companies with the Certified Event Manager (CEM) and Certified Event Company (CEC).
For more information on the association and its accreditation programs click here.